Pineapple Flower Passionfruit Cake
Prep: 40 mins
Cook: 40 mins
Servings: 8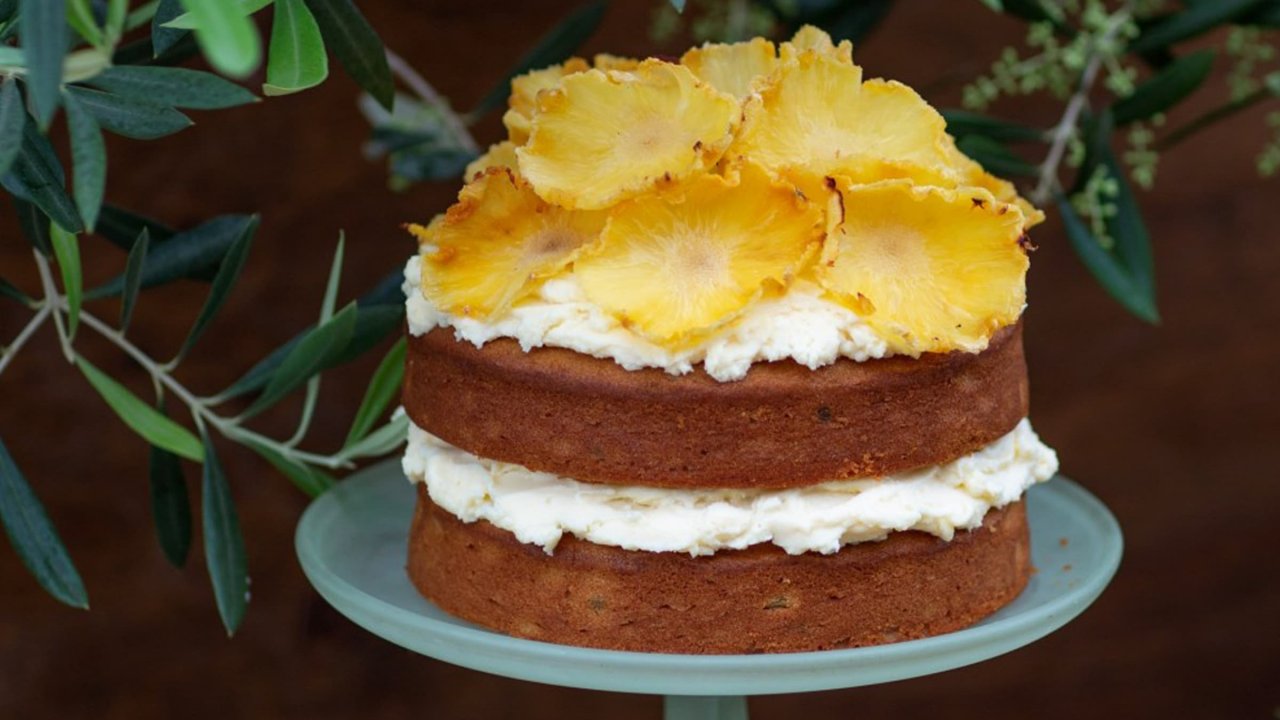 This incredible Pineapple Flower Passionfruit Cake is the brain child of Sydney Food Sisters. With layers of cake and pineapple curd plus beautifully decorated pineapple flowers, this is sure to be a show stopper at your next special event.
Ingredients
Pineapple Curd:
6 eggs
1 cup CSR Caster Sugar
1½ tbsp White Wings Cornflour
¼ tsp salt
¾ cup pineapple juice
¼ cup lemon juice
130g butter
Cake Layers:
250g unsalted butter, chopped, room temperature
1½ cups CSR Coconut Sugar
4 eggs
1 tsp vanilla paste
1 cup coconut milk
2⅔ cups White Wings self-raising flour
4 tbs fresh passionfruit pulp, seeds removed 
Icing & Caramelised Pineapple:
250g fresh pineapple, diced
3 tbs CSR Coconut Sugar
500g mascarpone
1½ cups pineapple curd
Method
Preheat the oven to 160ᵒC fan-forced. Line a baking tray with baking paper. Grease two 20cm round cake pans and line the bases and sides with baking paper.
To make the pineapple flowers, remove the top, bottom and skin of the pineapple, ensuring that the pineapple eyes are removed. Slice very thinly, approximately 3-4mm in thickness.
Press the slices between paper towels to remove excess moisture and transfer onto prepared baking trays. Bake for 20 mins, or until the tops start to look dry. Turn the pineapple slices over and bake for a further 20 mins, or until slightly golden on the edges (The pineapple should be pliable and not completely dry). Transfer to muffin tins, pressing them into the tin to create a slightly curved shape. Allow to cool completely.
To make the pineapple curd, in a medium saucepan, whisk the eggs, sugar, cornflour and salt together until smooth. Place over low heat. Add the juices and butter. Whisk gently but constantly, making sure to get into the corners of the pan, for approximately 12 mins until thickened. Pour into sterilised jars and place in the fridge until cold.
To make the cake layers, beat the butter and coconut sugar using an electric mixer until pale & creamy. Add the eggs, one at a time, beating after each. Fold in the flour, coconut milk and vanilla paste in alternating batches until combined. Fold in the passionfruit pulp and divide mixture between the two pans. Bake for 35-40 mins or until a knife pierced in the centre of the cake comes out clean. Cool in pans.
To make the caramelised pineapple, add the pineapple to a frypan. Sprinkle with coconut sugar. Cook over medium heat for 6-8 mins until the pineapple has softened and caramelised. Transfer to a bowl and allow to cool.
To make the cake frosting, beat the mascarpone & pineapple curd together in an electric mixer until well combined. Set aside.
To assemble the cake, place one cake on a serving plate. Spread half of the frosting over the cake and top with all of the caramelised pineapple, leaving a 1cm border around the edge. Place remaining cake on top. Spread remaining frosting over the top layer and decorate with pineapple flowers.