Rustic Apple Cake
Prep: 25 mins
Cook: 60 mins
Servings: 12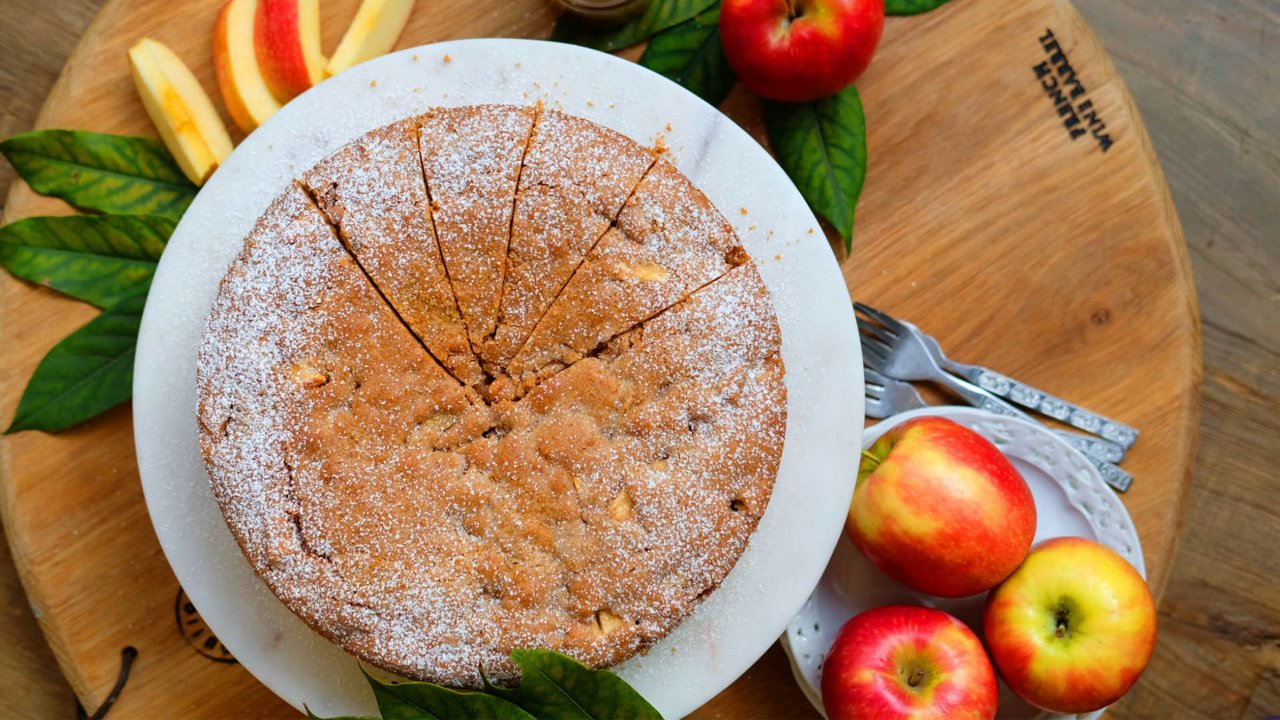 Traditionally known as Milopita, this Rustic Apple Cake is a classic nostalgia recipe. Shared by Favourite Chef, Mumma's Country Kitchen, this cake has the tastiest combination of crunchy outside and soft inside. We recommend completing it with the optional Ouzo Caramel Sauce to make it the ultimate comfort cake.
Ingredients
2 tbsp CSR Demerara Sugar , plus extra for sprinkling
1½ cups vegetable oil
4 eggs, room temperature, lightly beaten
1 cup CSR Caster Sugar
½ cup CSR Brown Sugar
3 cups White Wings plain flour
2 tsp ground cinnamon
1 tsp baking powder
pinch sea salt flakes
3 medium Delicious or Pink Lady apples, peeled, cored and cut into 1cm cubes
1 cup walnuts, roughly chopped
3 tbsp ouzo
1 tsp CSR Soft Icing Mixture, to serve
Ouzo Caramel Sauce:
½ cup CSR Golden Syrup
⅓ cup CSR Brown Sugar
50g unsalted butter
½ cup pouring cream
1½ tbsp ouzo
pinch of sea salt
Method
Preheat the oven to 160°C. Grease and line the base of a 23cm round cake tin. Lightly grease the tin again and sprinkle the base and sides with the demerara sugar. Set aside.
Place the oil in a large bowl and add the lightly beaten eggs. Whisk to incorporate the two. Add the sugars and whisk again. Sift the flour, cinnamon and baking powder directly over the batter and also add the sea salt flakes. Lightly fold until only floury streaks remain. Add the apples, walnuts and ouzo and fold lightly just until no flour streaks remain.
Pour the batter into the tin and level the top with the back of a spoon. Sprinkle with the extra demerara sugar and pop in the oven to bake for 55-60 mins or until a skewer inserted into the centre of the cake comes out clean. As the cake is packed with apples take extra care with the skewer test – if there is any hint of batter at all on the skewer, leave to bake for a further few minutes before testing again.
Allow to cool in the tin for a couple of minutes before turning onto a wire rack (correct side up) to cool.
For the ouzo caramel sauce, place the golden syrup, brown sugar and butter in a medium saucepan and stir over a medium heat to dissolve the sugar. Once the mixture comes to a boil, add the cream and stir to combine. Lower the heat and allow the sauce to cook for 4-5 mins, stirring every minute or so. After that time, add the ouzo and sea salt flakes and then remove from the heat. Cool for at least 30 mins.
Allow the cake to cool for at least an hour before dusting with the soft icing mixture and then slicing to serve on its own or with a dollop of whipped cream or ice cream and the ouzo caramel sauce.