Mushroom Leek Pie
Prep: 25 mins
Cook: 80 mins
Servings: 6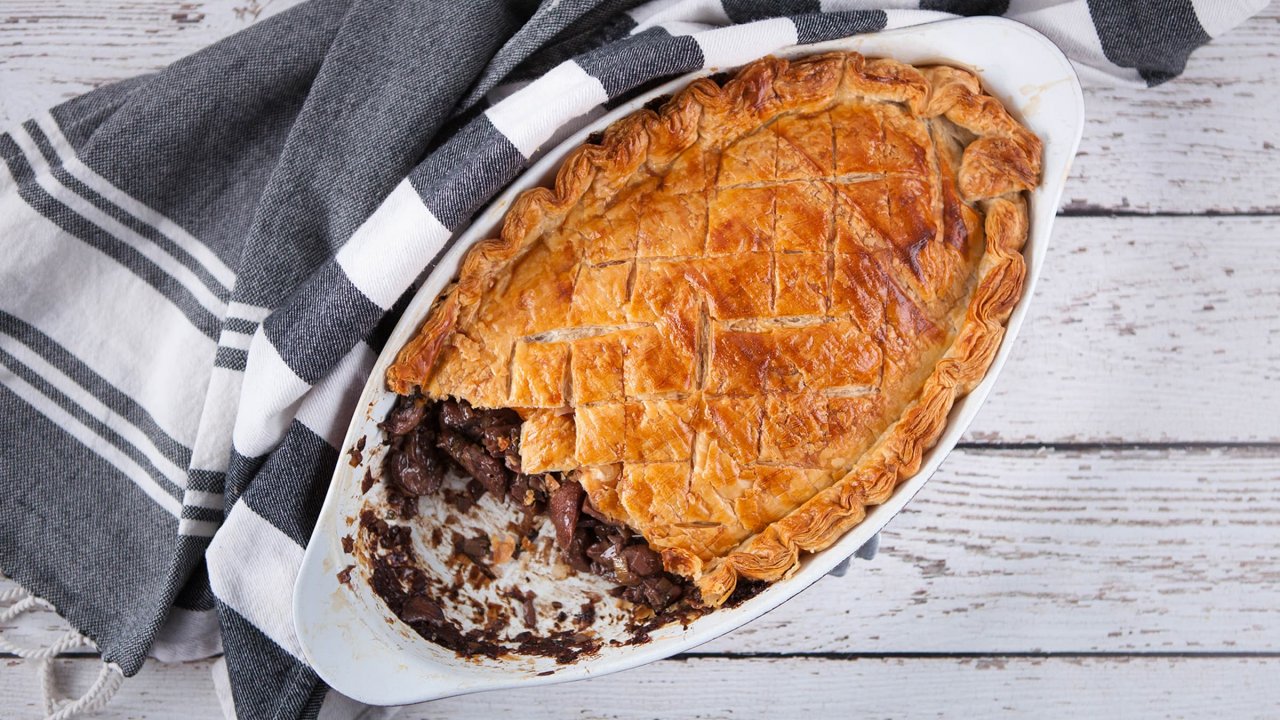 This Mushroom Leek Pie is a great vegetarian alternative for lunch or dinner. Just a tablespoon of caster sugar brings out the flavour of the leeks and mushrooms in this pie. A soul-warming recipe by Justine Schoffield from Everyday Gourmet in partnership with CSR Sugar.
Ingredients
1 x 375g of good quality puff pastry
30g butter
2 tbsp olive oil
2 leeks, finely chopped
1 tbsp CSR Caster Sugar
1 tbsp red wine vinegar
800g mixed mushrooms - oyster, button, Swiss, Pine (if available), roughly chopped
30g dried porcini mushrooms
1 tbsp green peppercorns in brine, drained
400ml red wine
3 sprigs parsley, finely chopped
1 tbsp White Wings plain flour
1 tbsp Dijon mustard
salt
1 egg whisked with a little water
Method
Place the dried porcini into a jug and cover with 300ml of hot water. Rehydrate for 20 mins.
In a large sauté pan heat the oil and butter over a medium heat. Add the leeks and a good pinch of salt and cook for 5 mins before adding the sugar and vinegar. Cook for a further 5-8 mins with the lid on stir regularly until the leek is slightly caramelised and soft.
Add the mushrooms and coat in the leek mixture. Drain the porcini mushrooms and chop then add to the pan. Reserve the liquid (mushroom stock). Cook for a further 10-15 mins or until the mushrooms have collapsed and the liquid has evaporated.
Add the peppercorns, mustard and the flour and cook for a minute before deglazing with red wine. Once the wine has reduced by 2/3, add the reserved mushroom stock. Bring to the boil then turn down to a simmer. Cook for 30 mins or until the liquid has reduced by half and a thick gravy remains. Cool. Add the parsley and combine.
Preheat the oven to 190°C.
Roll the pastry out so it's 2mm thick. Place the mushroom mixture into a medium pie dish. Cover with pastry and trim excess leaving a 2 mm border. Tuck the pastry into the sides and crimp. Lightly score the top and brush with the egg mixture. Bake for 30 mins or until the pastry is crispy and golden.