Macadamia Tarts with Golden Syrup Ice-Cream
Prep: 30 mins
Cook: 30 mins
Servings: 6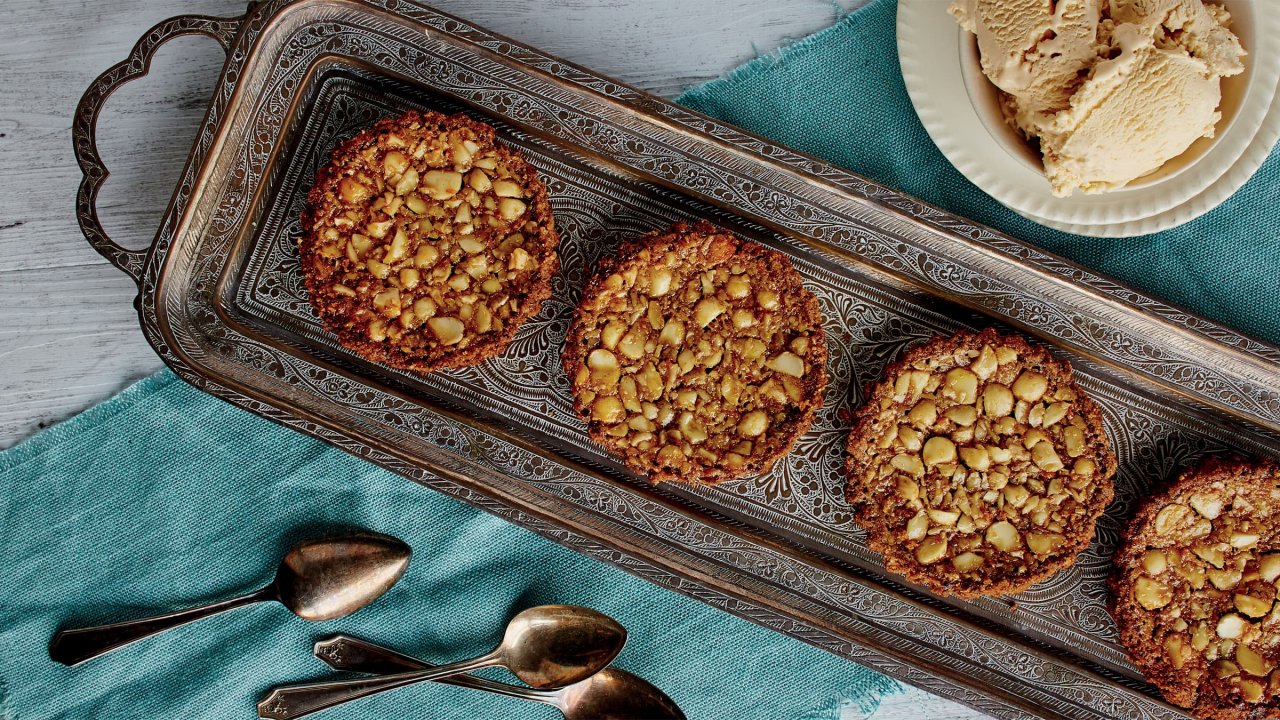 These nutty Macadamia Tarts are so incredibly tasty.
Try your hand at making the Golden Syrup Ice-Cream to accompany the tarts and you won't regret it.
Or if your short on time, bake up the Macadamia Tarts on their own and buy some good quality vanilla bean ice-cream.
Ingredients
Tart Cases:
250g Ginger Nut biscuits
150g macadamia nut meal
2 tbsp CSR Raw Caster Sugar
100g butter, melted
Tart Filling:
125ml CSR Golden Syrup
½ cup CSR Brown Sugar, packed
50g butter
20ml bourbon
3 eggs
1 vanilla bean, scraped (or 1 tsp vanilla paste)
Zest of one orange
200g macadamia nuts, roughly chopped
Golden Syrup Ice-Cream:
600ml cream
100ml milk
1 vanilla bean, scraped (or 1 tsp vanilla paste)
⅓ cup CSR Demerara Sugar
2 eggs
2 eggs yolks
75ml CSR Golden Syrup
Method
Pre-heat oven to 140°C fan-forces. Lightly grease six 11.5cm shallow tart tins and line the bases with grease-proof paper.
In a food processor, blitz the ginger nut biscuits until they form a fine crumb. Place crumb in a large bowl and add the macadamia nut meal, raw caster sugar and melted butter. Combine well.
Divide mixture evenly between the prepared tart tins, pressing firmly to create an even crust for the base and sides. Chill until ready to use.
To prepare the tart fillings, place golden syrup, brown sugar, butter and bourbon in a medium sized saucepan. Cook on medium heat until melted. Remove from the heat and allow to cool slightly.
Whisk eggs in a large bowl. Add the golden syrup mixture, vanilla bean (or paste) and orange zest, mixing until combined. Fold in the macadamia nuts.
Divide mixture evenly among the chilled cases. Cake for 25-30mins or until slightly browned.
For the Golden Syrup ice-cream, start by combining cream, milk, vanilla seeds (or paste) and Demerara Sugar in a heavy-based saucepan. Stir over medium heat until sugar has dissolved. Bring to the boil then remove from heat.
Whisk eggs and egg yolks in a medium sized heat-proof bowl until well combined. Add the Golden Syrup and 1/3 of the cream mixture, whisking well. Gradually add in remaining mixture whisking constantly.
Return mixture to the saucepan on a low heat, stirring continuously, until thickened (it will coat the back of a spoon). Remove from the heat and strain mixture through a fine sieve into a heat-proof bowl. Cover and refrigerate to chill completely.
In an ice-cream machine, churn mixture as per manufacturer's instructions. Keep in the freezer until ready to eat.