Easy Animal Biscuits
Prep: 40 mins
Cook: 35 mins
Servings: 24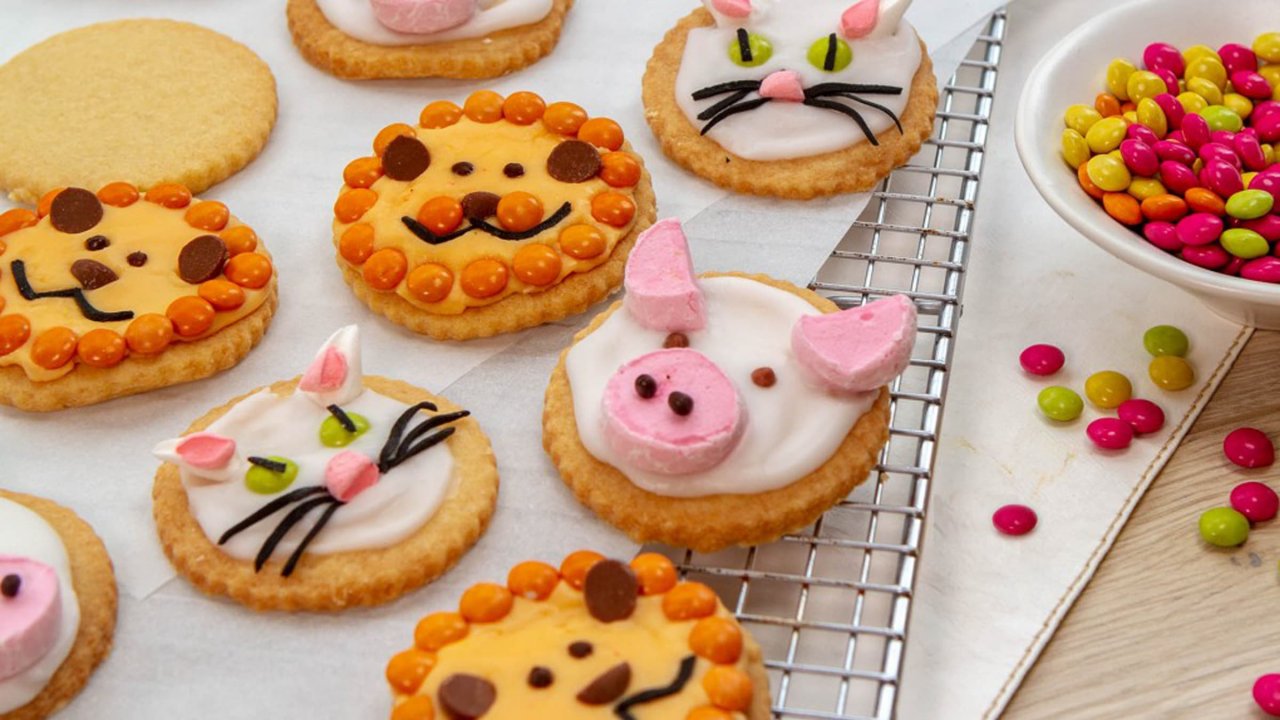 These easy animal biscuits are a special treat you can all make together. Use our ideas for inspiration and let the kids make up their own designs. A fun activity for a rainy day.
The CSR Raw Caster Sugar in these apple sponge biscuits, adds a soft caramel flavour.
Ingredients
Golden Shortbread:
225g White Wings plain flour, sifted
115g CSR Raw Caster Sugar
115g rice flour, sifted
225g butter, softened
1 small pinch salt
Decorations:
1 ½ cups CSR Pure Icing Sugar , sifted
2-3 tbsp water
2 drops yellow food colouring
1 drop red food colouring
Assorted marshmallows
Liquorice straps, cut in very fine strips
Mini Smarties
Method
Preheat oven to 150°C and line 2 large baking trays with baking paper or silicon sheets.
In a large bowl, add the sieved flours, sugar and salt. Rub in the butter and knead gently until you have a dough. (Tip if you have a large food processor you can simply blitz all the ingredients together to get to this point).
Remove the dough from the bowl, transfer to a lightly floured work surface and knead gently until smooth.
Cut the dough in half, lightly dust with flour and roll out until less than 1cm thick.
Cut in rounds using a 6cm biscuit cutter. Transfer to the lined trays, allowing 2-3cm between each biscuit to spread. Repeat with the second piece of dough and the offcuts.
Transfer to the oven, bake for about 35 mins or until lightly golden. Allow to cool fully.
for the decorate
In a medium bowl add the sieved icing sugar and add just enough water to form a thick paste. Remove two-thirds of the white icing and set aside.
Add the food colouring to the remaining icing to colour it pale orange.
Using teaspoons, roughly ice two-thirds of the biscuits with white icing (for the pigs and cats) and the remainder with the orange icing (for the lions). Each biscuit should use about 1 teaspoon of icing.
To make the pigs:
Decorate the white icing biscuits with half a pink marshmallow for a nose, quarter of a pink marshmallow for ears and very small choc lollies or round pieces of liquorice for eyes and nostrils.
To make the cats:
Decorate the white icing biscuits with green smarties for eyes, pink and white marshmallows cut to triangles for ears and noses and fines strips of liquorice for the whiskers and the black parts of the eyes.
To make the lions:
Finally, use orange iced biscuits and decorate with orange or yellow smarties to make their lion ruff, brown smarties or small choc buttons for ears and noses and liquorice to make smiling lion mouths and eyes.