Easter Bunny Cupcakes
Prep: 30 mins
Cook: 20 mins
Servings: 12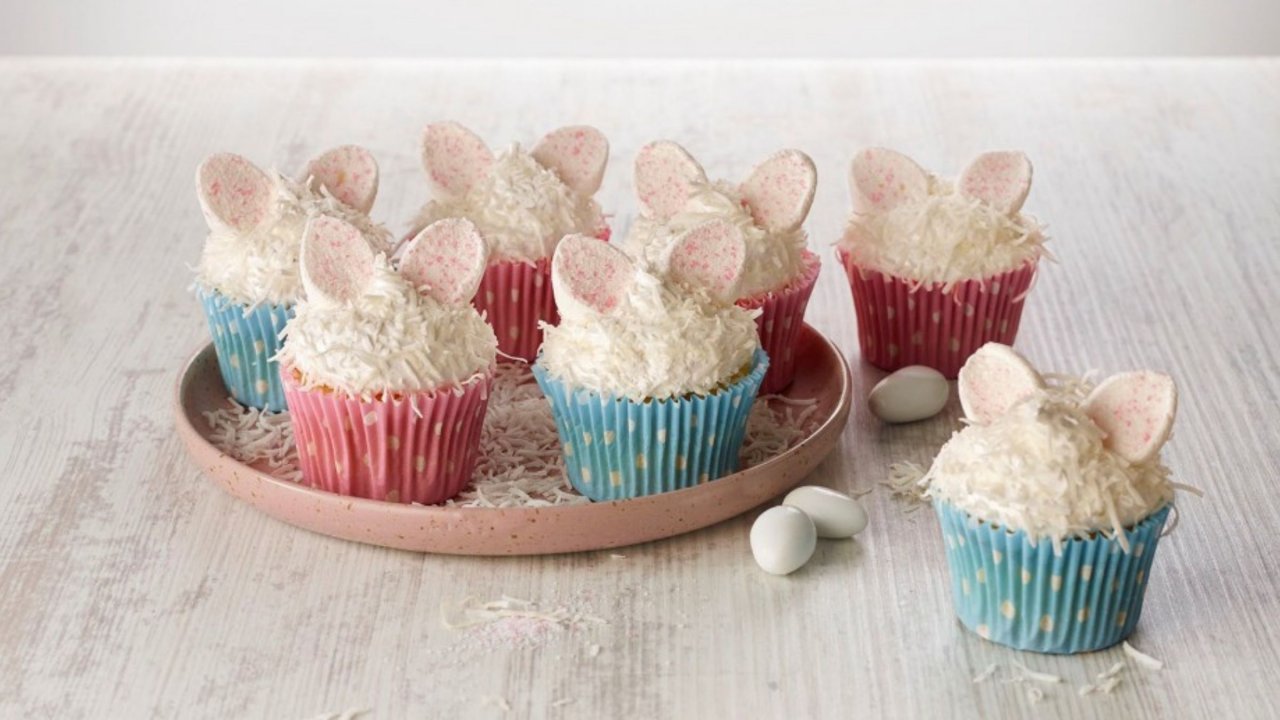 Hop to it and create Easter Bunny Cupcakes in under 50 minutes. With their marshmallow bunny ears and coconut "fur", these Easter Bunny Cupcakes make a delightful Easter treat.
Ingredients
1⅔ cups White Wings plain flour
1 cup CSR Caster Sugar
¼ tsp bi-carb soda
1 tsp baking powder
¾ cup salted butter, room temperature
3 egg whites
3 tsp vanilla bean extract
½ cup sour cream
½ cup milk
Coconut Meringue Icing:
4 egg whites
300g CSR Caster Sugar
1½ tbsp glucose syrup
2 tsp coconut essence
To Garnish:
1 cup shredded coconut
12 marshmallows cut in half diagonally
Pink sprinkles
Method
Preheat oven to 160 °C fan-forced. Place cupcake liners into a muffin tray.
Whisk together flour, sugar, baking soda and baking powder in a large mixing bowl.
Add butter, egg whites, vanilla, sour cream and milk and mix on medium speed just until smooth. Do not over mix.
Fill cupcake liners a little more than half way. Bake 18-20 mins. Allow to cool for 1-2 mins, then remove to cooling rack to finish cooling.
For the icing, combine all ingredients, except coconut essence, with ⅓ cup water in a heatproof bowl set over a saucepan of simmering water.
Beat with electric beaters for 7 mins or until thick, glossy and doubled in volume. Transfer to an electric mixer and whisk on high speed for 5 minutes or until cooled. Add coconut essence, and whisk to combine.
Top cupcakes with coconut meringue icing. Cut marshmallows in half diagonally and dip into sprinkles to create bunny ears. Sit bunny ears on top of the meringue icing & sprinkle with coconut.