Butterscotch Apple Pie
Prep: 20 mins
Cook: 60 mins
Servings: 8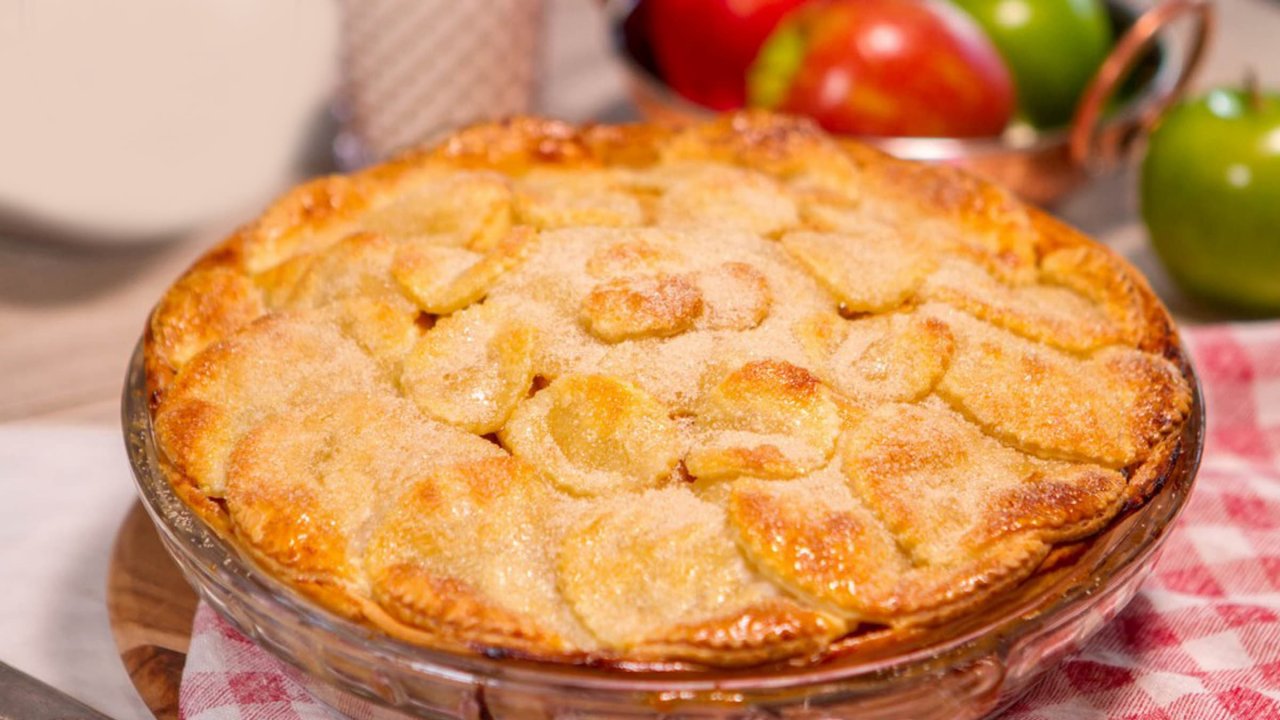 Remember Nana's apple pie? Take your butterscotch apple pie to the next level with this smooth butterscotch sauce and a crisp, sugar-crusted pie case. So cream or Ice cream?
The CSR Brown Sugar and CSR Golden Syrup add a smooth butterscotch flavor to this tasty pie. CSR Raw Caster Sugar baked onto the top of short crust pie adds crunch and a naturally golden gleam.
Ingredients
4 sheets Pampas shortcrust pastry or 250g homemade shortcrust pastry, defrosted
½ cup CSR Brown Sugar
¼ cup CSR Golden Syrup
50g butter
2kg (about 10) Granny Smith apples - peeled, cored and sliced
2 tbsp White Wings cornflour
2 tbsp water
2 tsp ground cinnamon
1 tsp ground nutmeg
1 egg, lightly beaten
2 tbsp CSR Raw Caster Sugar
Method
Preheat oven to 180°C. Line the base of a 25cm, 4cm deep pie dish or a deep quiche pan with a loose bottom with baking paper.
Cut one of the sheets of pastry slightly wider than the pie dish base and use it to line the bottom, make sure it sits about 1cm up the sides.
Cut 3 x 6 cm wide strips from the second sheet of pastry (wide enough to overhang both the pastry base and the pie rim by about 1cm) and lay them around the sides of the pie dish, slightly overlapping the pastry base and each other. You may need to pleat them slightly to allow for the narrower pie base.
Use your clean fingers to firmly seal together any of the pastry overlaps on the base and sides so the butterscotch sauce won't ooze out as the pie bakes, then chill the pastry case in the fridge for about 20 min before filling and baking.
While the pastry chills, make the butterscotch apple filling.
In a large shallow saucepan, over a very low heat, stir the CSR Brown Sugar, CSR Golden Syrup, and butter until melted and smooth.
In a large bowl, add the peeled and sliced apple and the sieved cornflour and spices, toss until the apple is lightly coated in cornflour.
Transfer the coated apple and water to the pan with the butterscotch sauce and stir well.
Simmer, on a very low heat, until the apple is just starting to become tender. Allow to cool slightly.
Line the chilled pastry case with baking paper and fill with either uncooked rice, lentils or baking beads. Blind bake for about 15 min. Remove the baking paper and beans, protect the edges with foil pieces, to stop them burning and bake for a further 5 min to partially cook the base. Remove from the oven.
Spoon the cooled butterscotch apples pastry case. Cut the remaining pastry into assorted rounds using pastry cutters and arrange in a pattern on top of the pie. Brush with beaten egg and dust with CSR Raw Caster Sugar.
Bake for 30 min, or until the pastry is golden and crisp.
Serve warm with cream or ice-cream.