Banana Muffins with Caramel Sauce
Prep: 10 mins
Cook: 35 mins
Servings: 12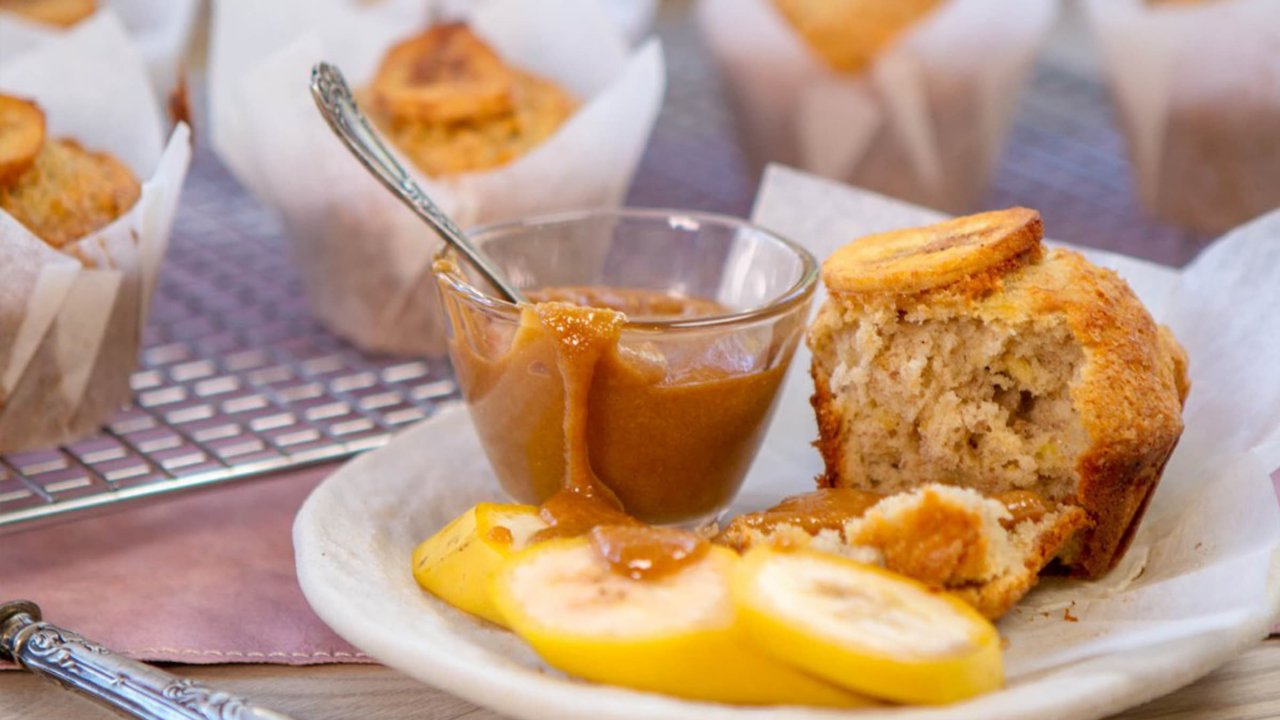 Our banana muffins and caramel sauce are truly delicious and turn overripe bananas that you would normally discard into a wholesome treat or lunchbox snack.
The CSR Demerara Sugar muffin topping looks attractive and adds a pleasing crunch when you bite into them, whilst the CSR Brown Sugar in the muffins and sauce adds a mellow caramel flavour.
Ingredients
For The Wet Mix:
1½ cup banana, about 3 ripe medium bananas, mashed
1 large egg, lightly beaten
½ cup butter, melted and slightly cooled
For The Dry Mix:
For The Topping:
1 small pinch sea salt
12 dried banana chips (optional)
3 tbs CSR Demerara Sugar
For The Caramel Sauce:
¾ cup CSR Caster Sugar
¼ cup boiling water
50g unsalted butter
½ tsp vanilla essence
½ cup thick cream
a few slices of fresh banana (optional)
Method
Preheat oven to 180°C and grease or line with patty pans a 12 hole muffin pan.
In a large bowl, mix together ⅓ cup CSR Brown Sugar, self-raising flour, baking soda, nutmeg and salt.
In a smaller bowl, mix together the mashed banana, beaten egg and melted butter then, using a large metal spoon, fold the wet mix into the dry.
Stir until you have a smooth batter, then divide the batter evenly between the 12 pans.
Top each muffin with a sprinkle of CSR Demerara Sugar  and a banana chip, if using them.
Bake for 20-25 mins or until golden brown and cooked through.
While the muffins are in the oven, make the caramel sauce.
On a very low heat, add the sugar to a heavy bottomed pan. Heat gently until the CSR Caster Sugar dissolves and turns golden. Remove from heat, very slowly and carefully because it will splutter, pour in the boiling water to stop the caramelisation process. Stir until smooth.
Stir in the butter and ¾ cup CSR Brown Sugar, return to a low heat, stirring until the brown sugar is dissolved and the mixture is smooth.
Stir in the vanilla and cream, then remove from the heat and set aside.
Serve the muffins warm with caramel sauce and a few slices of fresh banana.