White Chocolate Cheesecake with Frosted Cherries
Prep: 30 mins
Cook: 8 mins
Servings: 12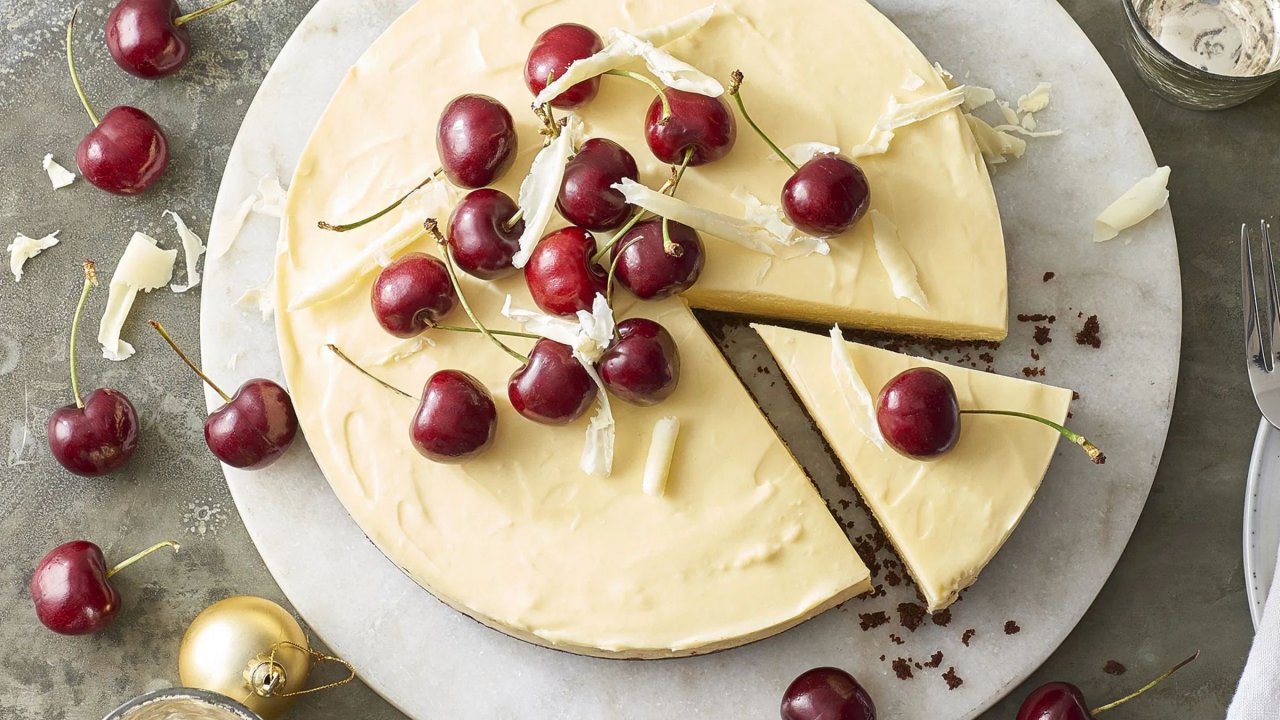 For a modern Christmas dessert, try this White Chocolate Cheesecake with Frosted Cherries. White a chocolate biscuit base and white chocolate cheesecake filling, this dessert is sure to impress guests. Top with sweet seasonal cherries for a pop of colour.
Ingredients
Cheesecake:
250g plain chocolate biscuits
100g butter, melted
1 ½ cups thickened cream
200g white chocolate buttons
2 tsp gelatine
500g cream cheese, cubed and softened
¾ cup CSR Caster Sugar
Frosted Cherries:
½ cup CSR Caster Sugar
2 tbsp water
200g fresh cherries
2 tbsp CSR Caster Sugar extra, for dusting
Method
Place biscuits into a bowl of a food processor and pulse until fine crumbs have formed. Add melted butter, continue mixing until well combined. Press mixture into the base of a greased and lined 22cm springform pan. Refrigerate until firm.
Combine ½ cup of the cream with chocolate buttons in a glass bowl and place over a saucepan of gently simmering water. Allow chocolate to melt, stirring until smooth. Dissolve the gelatine in ¼ cup boiling water, set aside.
Using electric beaters, whip remaining cream to soft peaks, set aside. Place cream cheese and sugar in the bowl of an electric mixer and beat until smooth. Add in the chocolate mixture and dissolved gelatine, mixing until smooth.
Fold whipped cream into the cream cheese mixture until well combined. Spoon over prepared base and chill for 2-3 hrs until set.
For the cherries; place sugar and water in a saucepan and stir over low heat until sugar has dissolved. Continue to simmer a further several mins until slightly reduced. Cool. Dip half of the cherries in sugar syrup and then into the sugar. Place on a cooling rack to set.
Just prior to serving, remove cheesecake from pan and decorate with the frosted and fresh cherries.