Upside Down Summer Pavlova by Donna Hay
Prep: -
Cook: -
Servings: 6-8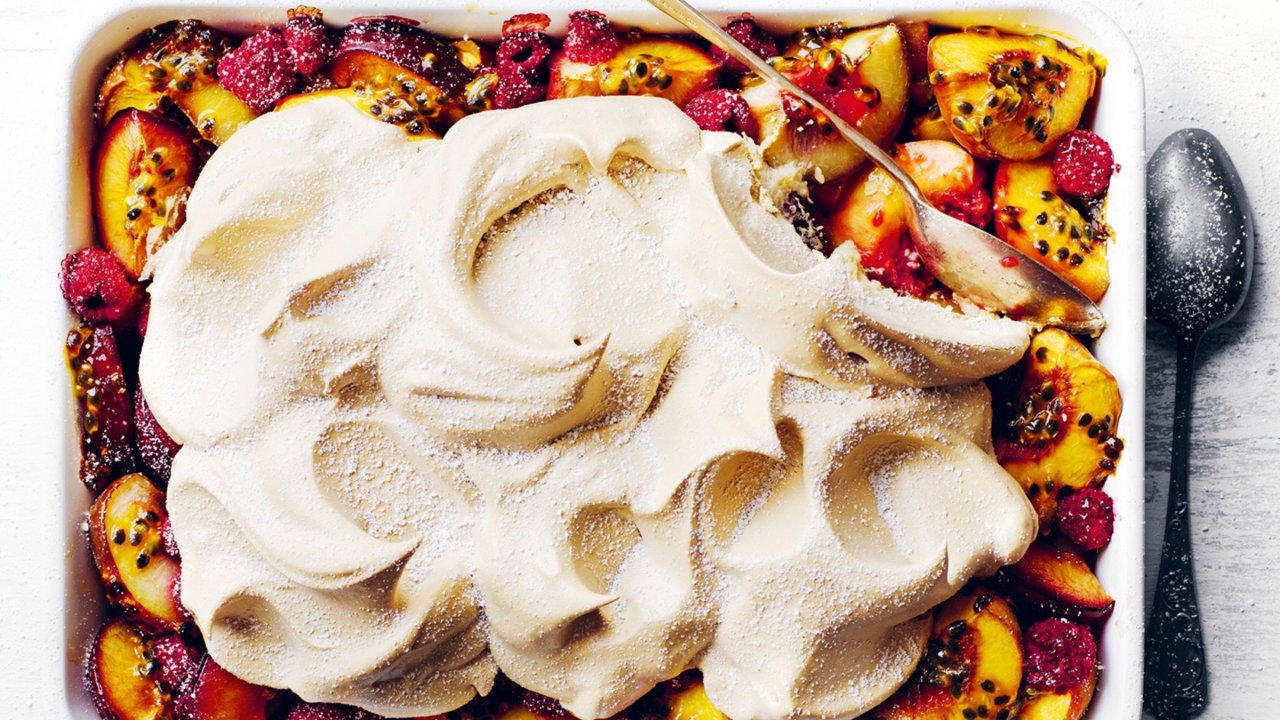 All the summertime sweetness without the fuss! This recipe literally turns the classic pav on its head so there's no assembly needed. Recipe from Donna Hay's book, One Pan Perfect.
Ingredients
6 white or yellow peaches or nectarines, stones removed and sliced into wedges
6 plums or apricots, stones removed and quartered
⅓ cup (40g) fresh passionfruit pulp
1½ cups (185g) fresh or frozen raspberries
whipped cream, to serve
meringue
225ml egg whites (about 6 eggs)
1 cup (220g) CSR raw caster (superfine) sugar
¼ cup (35g) CSR coconut sugar
1 tablespoon cornflour (cornstarch)
1½ teaspoons white vinegar
Method
Preheat oven to 160°C (325°F).
Place the peaches, plums, passionfruit and raspberries into a deep 25cm x 35cm (10 inch x 13¾ inch) baking dish. Set aside.
To make the meringue, place the egg whites in the bowl of an electric mixer and whisk on high speed until soft peaks form.
Combine the caster sugar and coconut sugar in a bowl. Add the mixed sugars to the egg whites, 1 tablespoon at a time, whisking until each addition has dissolved before adding more.
Once all the sugar has been added, scrape down the sides of the bowl and whisk for a further 10–15 minutes or until thick and glossy.
Place the cornflour and vinegar in a small bowl and mix until smooth. Add the cornflour mixture to the egg white mixture and gently fold through.
Spoon the meringue mixture over the top of the fruits. Reduce oven temperature to 140°C (275°F) and bake for 1 hour or until the meringue has crisp edges. Serve warm or chilled with whipped cream. 
Donna recommends a freestyle approach to the fruits you use in this pavlova – just look to the season for inspiration!