Tropical Ice Cream Cake
Prep: 265 mins
Cook: 20 mins
Servings: 12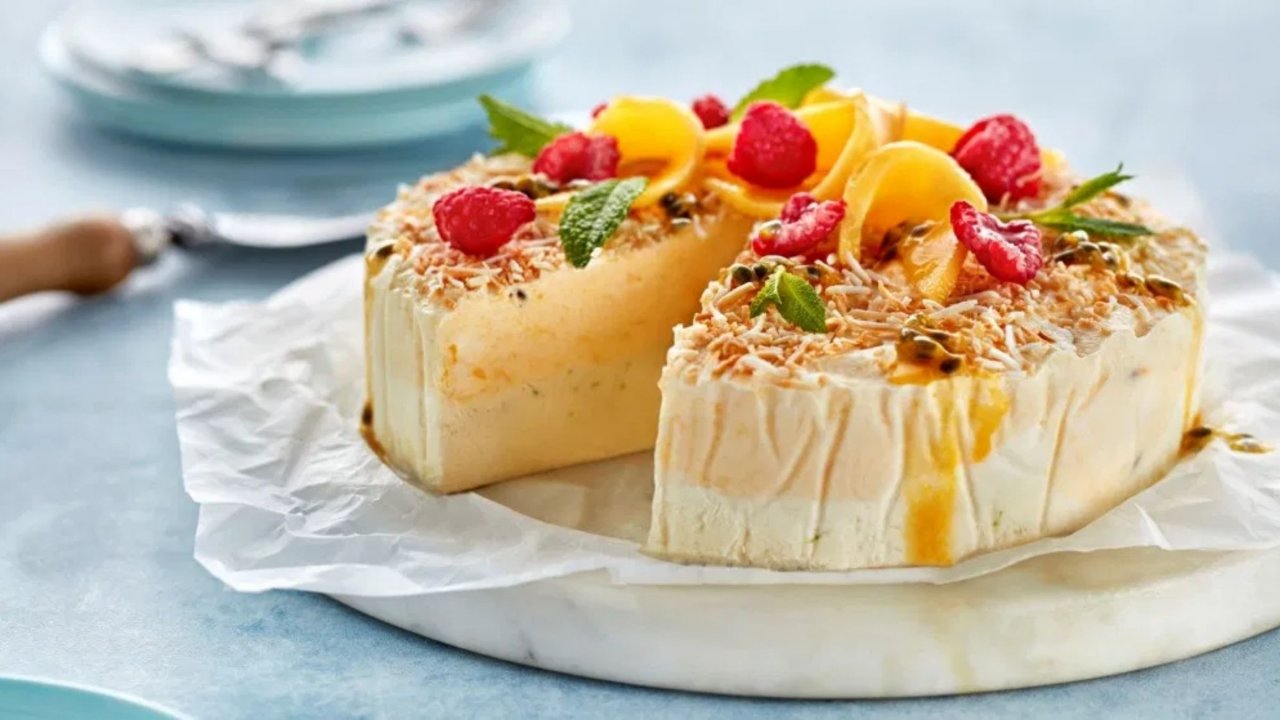 Tropical Ice Cream Cake is the ultimate summer dessert. Our cheats version uses Greek yoghurt and doesn't require an ice-cream maker so it's super easy to make at home. Top it off with your favourite tropical fruits to cool down on hot summer nights.
Ingredients
Lime Syrup:
¼ cup CSR Raw Caster Sugar
2 tbsp lime juice
2 tsp finely grated lime rind
Mango Puree:
1 mango
1 tbsp passionfruit pulp
Ice Cream:
2 extra large egg whites
½ cup CSR Raw Caster Sugar
1½ cups Greek-style yoghurt
250ml thickened cream
To Decorate:
2 tbsp shredded coconut, toasted
Mango
Raspberries
Passionfruit
Mint
Method
Line the base and sides of a 20cm cake pan with removable base, with baking paper.
For the lime syrup; combine sugar and lime juice in a small saucepan. Bring to a gentle simmer and cook for several minutes until sugar has dissolved and liquid has reduced slightly. Chill. Once cold add lime rind and refrigerate until required.
For mango puree; remove flesh from mango and puree until smooth. Mix in passionfruit pulp. Refrigerate until required.
Place eggwhites into the bowl of an electric mixer, and beat until soft peaks have formed. Gradually add sugar a little at a time until all is incorporated.
Place yoghurt and cream into a separate mixing bowl and beat until thickened. Gently fold in the meringue mixture, mixing until well combined.
Divide mixture between two bowls. Add lime syrup to one bowl and fold through. Add mango puree to the other bowl, and fold together.
Spoon lime flavoured mixture into prepared pan, then spoon over the mango mixture. Sprinkle with coconut, cover with plastic wrap and place in the freezer for at least 4 hours or overnight. Remove from pan and decorate with additional fruits prior to serving.