Strawberry Syrup Pistachio Goat Cheese Cheesecake
Prep: 180 Minutes
Cook: 6 Minutes
Servings: 6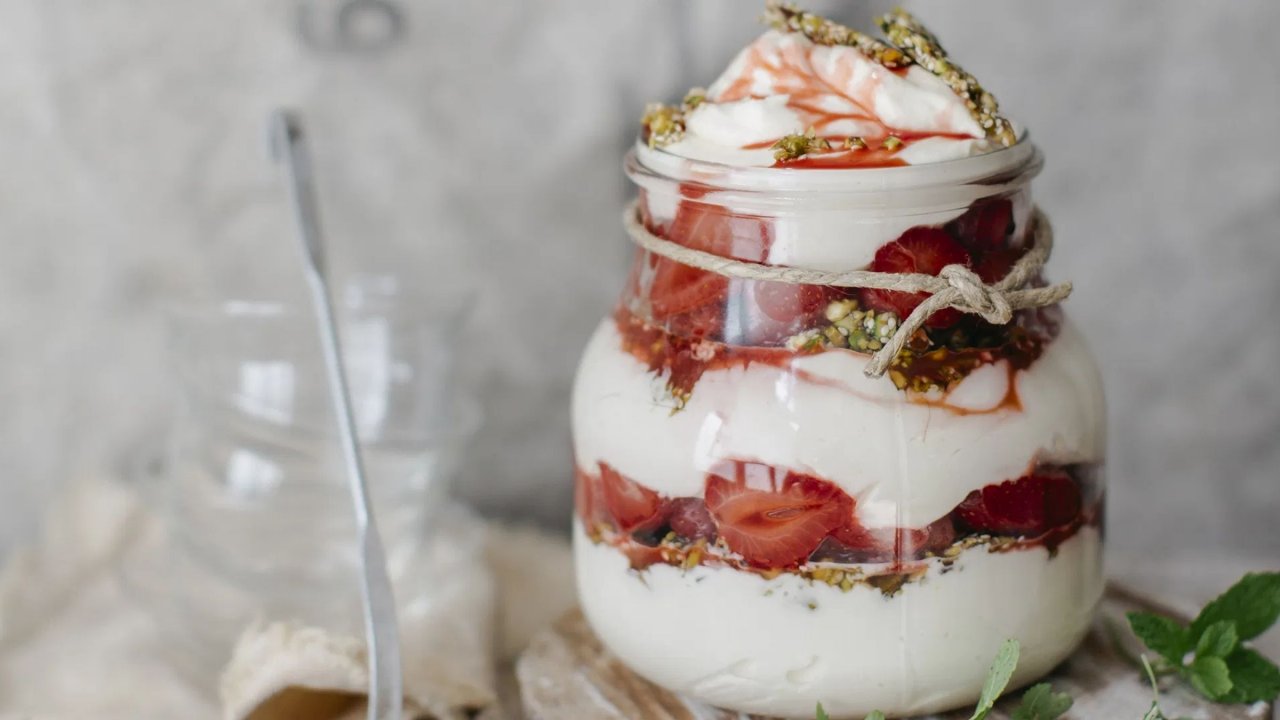 This Strawberry Syrup Pistachio Goat Cheese Cheesecake is our take on a better-for-you cheesecake. Triple tested by the Australian Women's Weekly, this cheesecake combines layers of goat's cheese-based cheesecake, strawberry syrup and pistachio sesame crumble. It's all the decadence you need to curb your sweet cravings in a better-for-you recipe.
Ingredients
Pistachio Crunch
½ cup (70g) pistachios, chopped coarsely
1 tbs extra virgin olive oil
2 tbs pure maple syrup
1½ tbs white sesame seeds
Strawberry Syrup
500g strawberries, hulled, halved
¼ cup (55g) CSR Rapadura Sugar
2 tbs lemon juice
Cheesecake Filling
150g soft goat's cheese
500g cream cheese, at room temperature
¾ cup (200g) greek-style yoghurt
½ cup (110g) CSR Rapadura Sugar
1 tsp vanilla extract
2 tsp finely grated lemon rind
Method
To prepare the pistachio crunch, line an oven tray with baking paper. Place ingredients in a non-stick frying pan; stir over medium heat for 3 mins or until sesame seeds are golden and syrup is caramelised. Immediately spoon onto baking paper; stand until cool, then break into clusters.
For the strawberry syrup, place ingredients in a medium frying pan over high heat. Bring to the boil; cook for 3 mins or until syrup thickens. Cool. Drain off ¼ cup (60ml) of the syrup and reserve.
Beat cheeses, yoghurt, sugar, extract and rind in a large bowl with an electric mixer until smooth.
Spoon a third of the cheese mixture into a 1.75 litre (7-cup) glass serving dish. Top with a third of the pistachio crunch, then half the strawberry mixture. Repeat layering, ending with the remaining cheese mixture. Refrigerate for 3 hours or until chilled.
Just before serving, spoon reserved strawberry syrup over cheesecakes then top with remaining pistachio crunch.