Neapolitan Cake
Prep: 25 mins
Cook: 40 mins
Servings: 8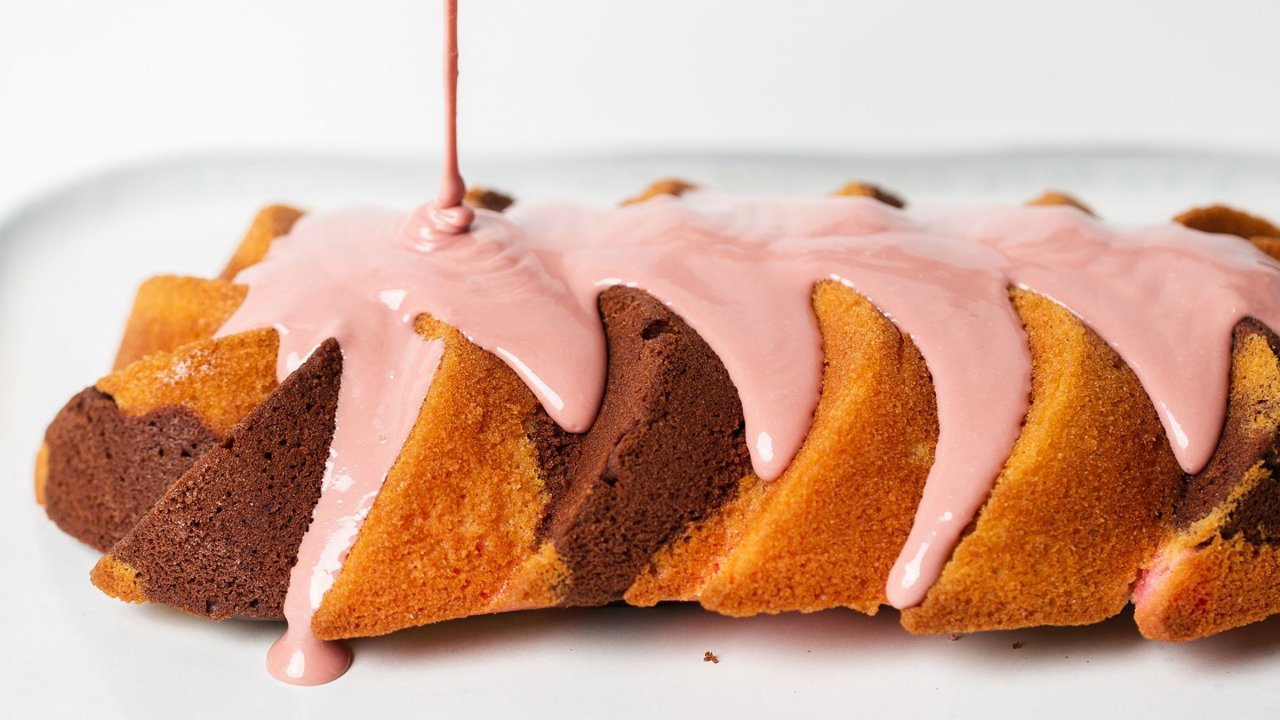 This Neapolitan Cake brings together the classic three flavours: chocolate, vanilla and strawberry. To create a marbled effect, a dollop each of the coloured batters is spooned into the cake tin, with a skewer swirled through the cake mixture to create the Neapolitan effect. Recipe by Charlotte Ree.
Ingredients
Cake:
120g unsalted butter, at room temperature
220g CSR Caster Sugar
2 large eggs, room temperature
150ml full cream milk
rose pink food colouring
1 tsp strawberry essence
2 tbsp Dutch-processed cocoa powder, sifted
1 tsp vanilla bean paste
Shredded coconut, for decorating
Ganache:
250g Ruby Chocolate Callebaut Callets
1 tbsp softened butter
Method
Preheat oven to 160°C. Grease a 22cm x 11cm x 7 cm loaf tin or 29 cm x 16.5 cm x 7 cm bundt loaf tin with non-stick cooking spray.
Using a stand mixer fitted with the whisk attachment, beat the butter and sugar until creamy. Add the eggs and beat lightly to combine. Alternately add half of the flour and milk, then repeat and beat until just combined.
Divide the batter among three small bowls. To one, add a few drops of pink food colour-ing and the strawberry essence. To another, mix in the sifted cocoa powder. To the third, add the vanilla.
Using a tablespoon of batter at a time, spoon the batter into the prepared tin, alternating among the three colours. Use a skewer to marble the batter. Bake for 30 mins, or until a skewer inserted into the centre comes out clean. Leave to cool in the tin for 5 mins be-fore transferring to a wire rack to cool completely.
To make the ganache, melt the chocolate in a heatproof bowl set over a saucepan of boiling water (ensuring the bowl doesn't touch the water). Add the butter and stir to cre-ate a wetter, silkier ganache.
Pour the ganache over the cooled cake and top with shredded coconut.