Muesli Bar Slice with Yoghurt Drizzle
Prep: 30 mins
Cook: 20 mins
Servings: 14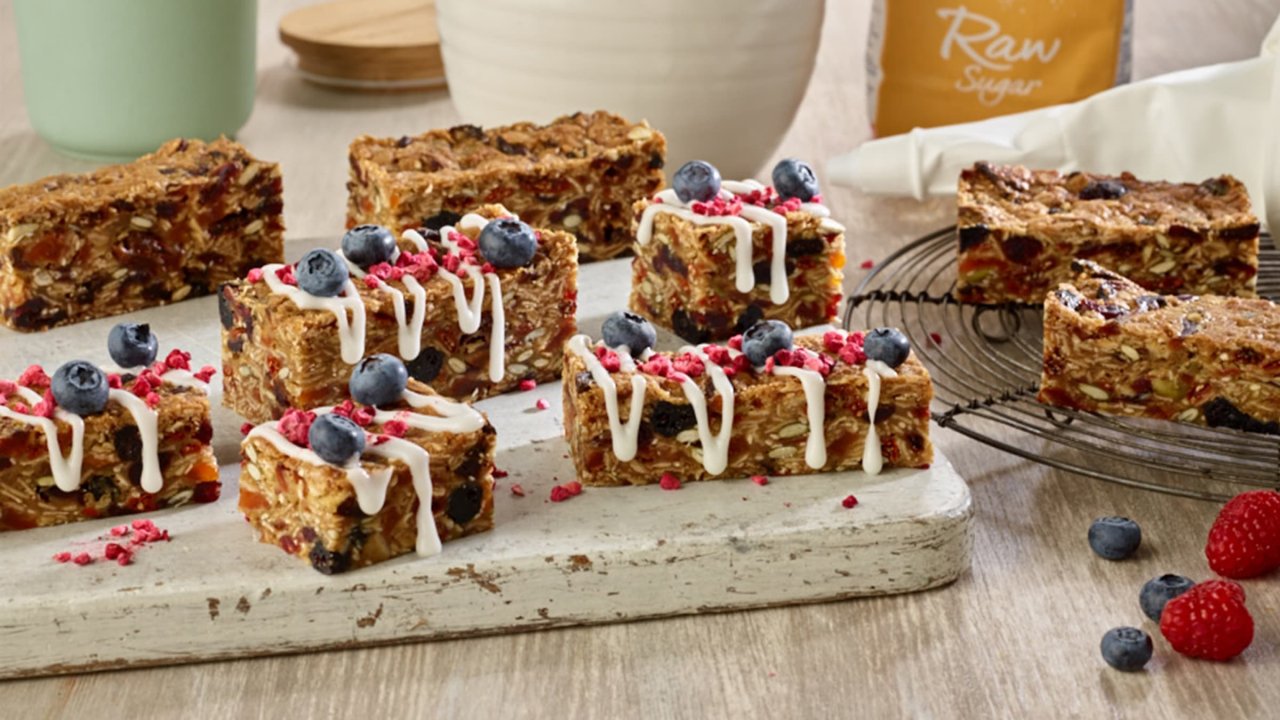 Jam packed full of goodness, our Muesli Bar Slice with Yoghurt Drizzle makes a fantastic lunchbox treat.
Ingredients
Muesli Bar:
125g butter
½ cup CSR Raw Sugar
¼ cup CSR Golden Syrup
1 cup rolled oats (not instant)
¼ cup dried blueberries
¼ cup goji berries
½ cup dried cranberries
½ cup diced dried apricot, chopped
3 tbsp pepitas
1 tbsp sesame or chia seeds
Yoghurt Drizzle:
1 cup CSR Pure Icing Sugar
1 tbsp natural yoghurt
½ tsp lemon juice
To Decorate:
Freeze dried raspberries
Shredded coconut
Fresh blueberries
Method
Preheat oven to 180°C. Grease and line a 20cm x 30cm slice tray with baking paper.
Combine the butter, sugar & syrup in a small saucepan over low heat and cook, stirring, until the butter has melted.
Place the oats, dried fruit, pepitas & sesame seeds, flour in a large mixing bowl and stir to combine
Add the butter and syrup mixture to the oat mixture and combine. Press into the base of your prepared slice tin. A silicone spatula won't stick and makes it easy to push the mix into the corners of the tin.
Bake for 20 to 25 mins or until golden. Allow the slice to cool in the tin completely before cutting it into slices to serve.
Drizzle generously with the yoghurt drizzle & garnish with fruit & coconut optional.