Layered Berry Pavlova by Charlotte Ree
Prep: 30 mins
Cook: 30 mins
Servings: 10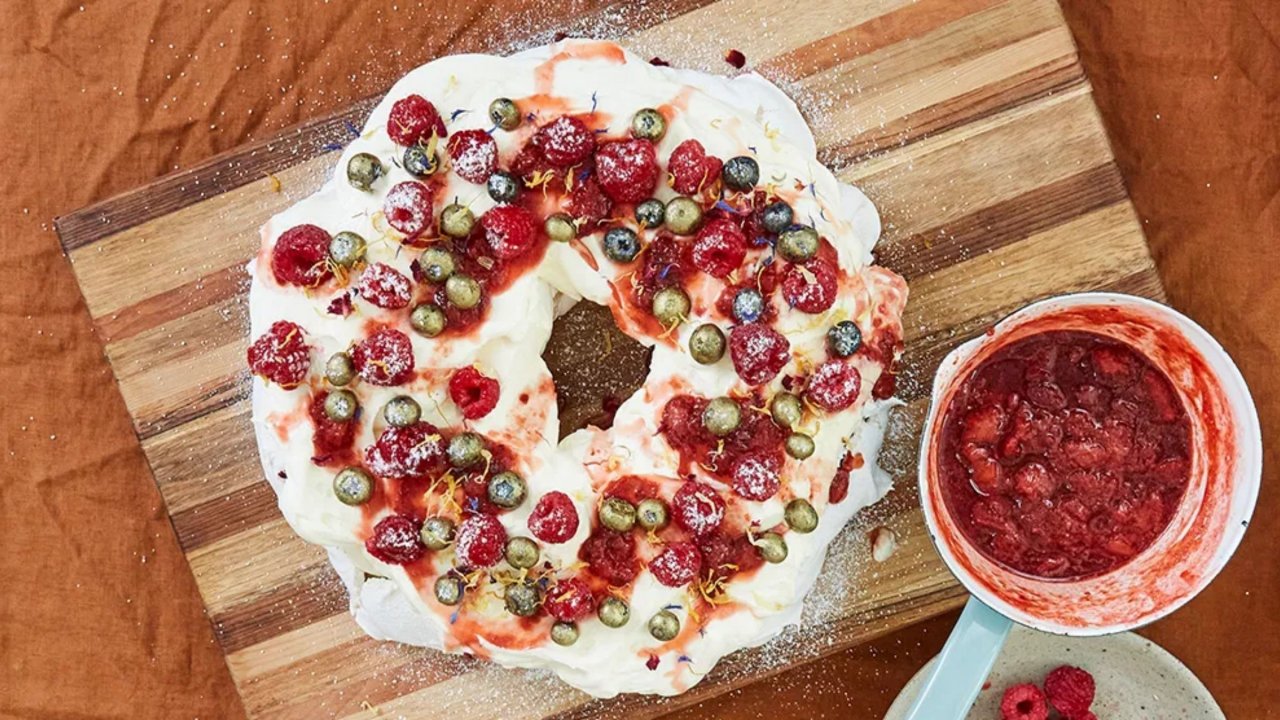 For me, Christmas isn't Christmas without a pavlova. Here's my recipe for a beautifully fluffy pavlova wreath topped with vanilla bean whipped cream and a berry coulis – ready to eat in under two hours.
Make sure that you only decorate your pavlova when you are ready to serve to avoid the meringue going soggy from the cream. It's a fun dessert to take to a friend's house as you can whip the cream and prepare the decorations in advance, then arrange it on-site. You can add any fruit you want but I prefer red berries because they look so festive. Enjoy! – Charlotte Ree.
Ingredients
Meringue:
6 large egg whites, at room temperature
400g CSR Caster Sugar
1 tsp White Wings Cornflour
1 tsp Cornwells White Vinegar
Topping:
600ml thickened cream
1 tsp vanilla bean paste
125g fresh blueberries
250g fresh raspberries
CSR Pure Icing Sugar, sifted, for decorating
Edible gold dust, optional, for decorating
Berry Coulis:
250g fresh strawberries, halved and tops removed
2 tbsp CSR Unrefined Rapadura Sugar
1 tbsp water
Method
Preheat oven to 150°C. Line a baking tray with baking paper. Trace a wreath on the underside of the baking paper so that your pavlova wreath is of equal size. (I trace around the inside of one of my 22 cm springform cake tins, ensuring consistency every time!)
In a bowl fitted with whisk attachment, beat the egg whites until stiff peaks form. With the motor running, gradually add the CSR Caster Sugar, one spoonful at a time, until you have a shiny and stiff meringue. Make sure that the CSR Caster Sugar granules have dissolved completely.
Add White Wings Cornflour and Cornwells White Vinegar and fold together.
Using a silicone spatula, spread meringue mixture onto your tray to fill the outline. Reduce oven temperature to 120°C. Place in oven and cook for 1 hour, turn off oven and let it cool completely in the oven.
While your wreath is cooling, make your berry coulis by combining strawberries, CSR Unrefined Rapadura Sugar and water in the bowl of a small saucepan on medium-high heat. Bring to boil, stirring occasionally for 5-6 minutes until you have a thick, jam-like consistency.
Whip the cream and vanilla in the stand mixer fitted with the whisk attachment. If you over whip your cream, simply add more fresh cream to even out consistency.
Layer your pavlova with whipped cream and berry coulis. In a small bowl, cover your blueberries in gold dust (if using).
Add blueberries and raspberries to the top of the pavlova so it appears full and abundant. If using, add edible flowers and gold leaf to the top of your pavlova too. Dust with CSR Icing Sugar. The pavlova wreath is best eaten immediately.