Hazelnut Tiramisu
Prep: 20 Minutes
Cook: -
Servings: 4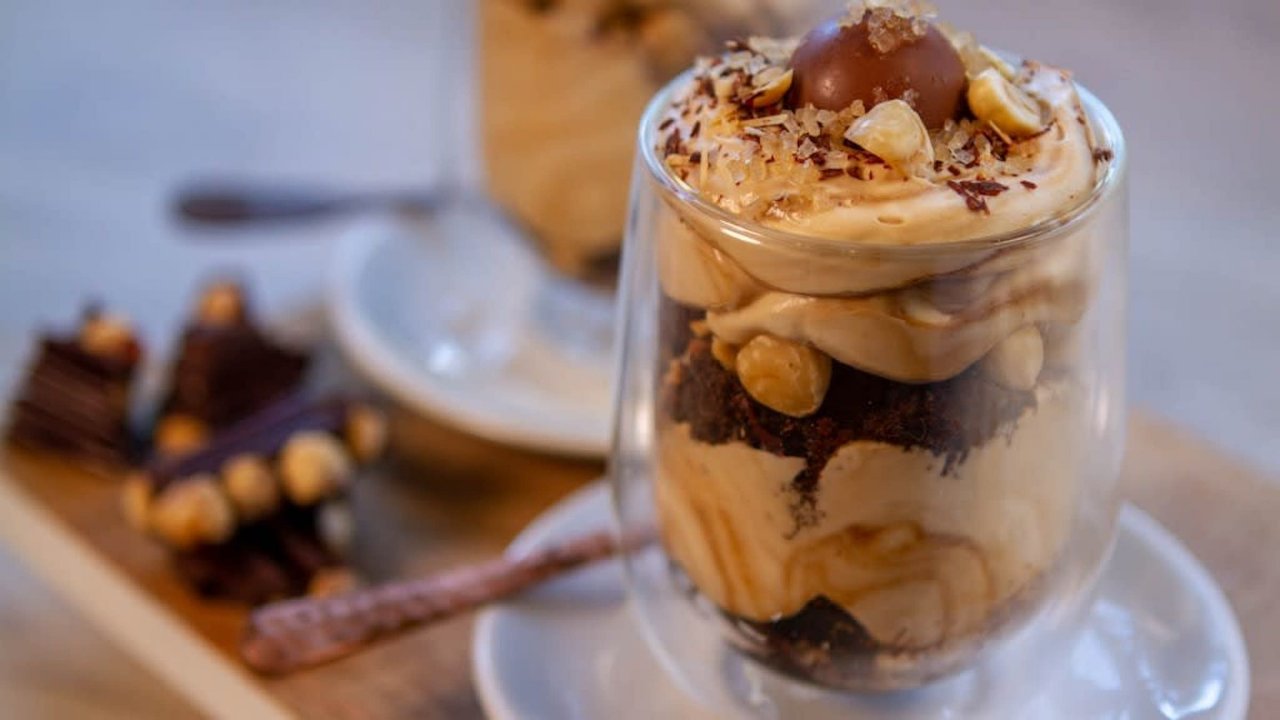 A decadent, Italian-influenced dessert, this non-traditional Hazelnut Tiramisu is the perfect after dinner indulgence.
Tasting notes: The CSR Dark Brown Sugar swirled through these lush, non-traditional hazelnut tiramisu desserts, adds deep, caramel toffee aromas that enhance the flavours of the coffee, chocolate, nuts and mascarpone cream. The glittering CSR Coffee Sugar Crystals topping, gives a crunchy textured finish.
Ingredients
Tip: you can also use plain dark chocolate and chopped hazelnuts instead of dark hazelnut chocolate.
8 small fingers of chocolate sponge cut in pieces
½ cup packed CSR Dark Brown Sugar
¼ cup Frangelico liqueur
⅓ cup hot very strong black coffee
90g dark hazelnut chocolate, shaved
250g mascarpone
300ml whipping cream
2 tbs CSR Pure Icing Sugar
1 tsp vanilla extract
to decorate
2 tbs CSR Coffee Sugar Crystals
¼ cup blanched hazelnuts, very roughly chopped
2 dark chocolate truffle balls cut in half (optional)
Method
Dissolve two thirds of the CSR Dark Brown Sugar into most of the hot black coffee. Reserve 2 tbs of coffee to stir into the remaining CSR Dark Brown Sugar. To make a sweet coffee flavoured syrup, pour in the Frangelico liqueur.
In a medium bowl, pour the coffee liqueur syrup over the chocolate sponge pieces and allow to soak.
Whip the cream to stiff peaks. In a separate bowl, fold in the mascarpone a spoon at a time, then mix in the CSR Pure Icing Sugar and vanilla extract.
In a small bowl, mix the remaining CSR Dark Brown Sugar with 2 tablespoons of the reserved strong coffee, to make a thick dark brown sugar coffee paste. Then, very roughly swirl the brown sugar coffee paste through the mascarpone cream.
Assemble the individual tiramisus. First divide half the soaked chocolate sponge into the base of 4 large glasses. We used double walled coffee glasses, but you can use wine glasses or sundae glasses as well.
Scatter a tablespoon of hazelnut chocolate shavings on the soaked sponge in each glass, and half fill with the brown sugar mascarpone cream. We piped it in, but you can spoon it instead.
Divide the remaining soaked chocolate sponge on the top of the mascarpone cream layer
Scatter the sponge with shaved hazelnut chocolate and fill the glasses with generous dollops of the brown sugar mascarpone cream, finish with more shaved hazelnut chocolate, half a truffle ball if you're using them, some chopped hazelnuts and a generous scatter of CSR Coffee Sugar Crystals for a little glitter and crunch. Serve chilled