Halloween Biscuits
Prep: 45 mins
Cook: 15 mins
Servings: -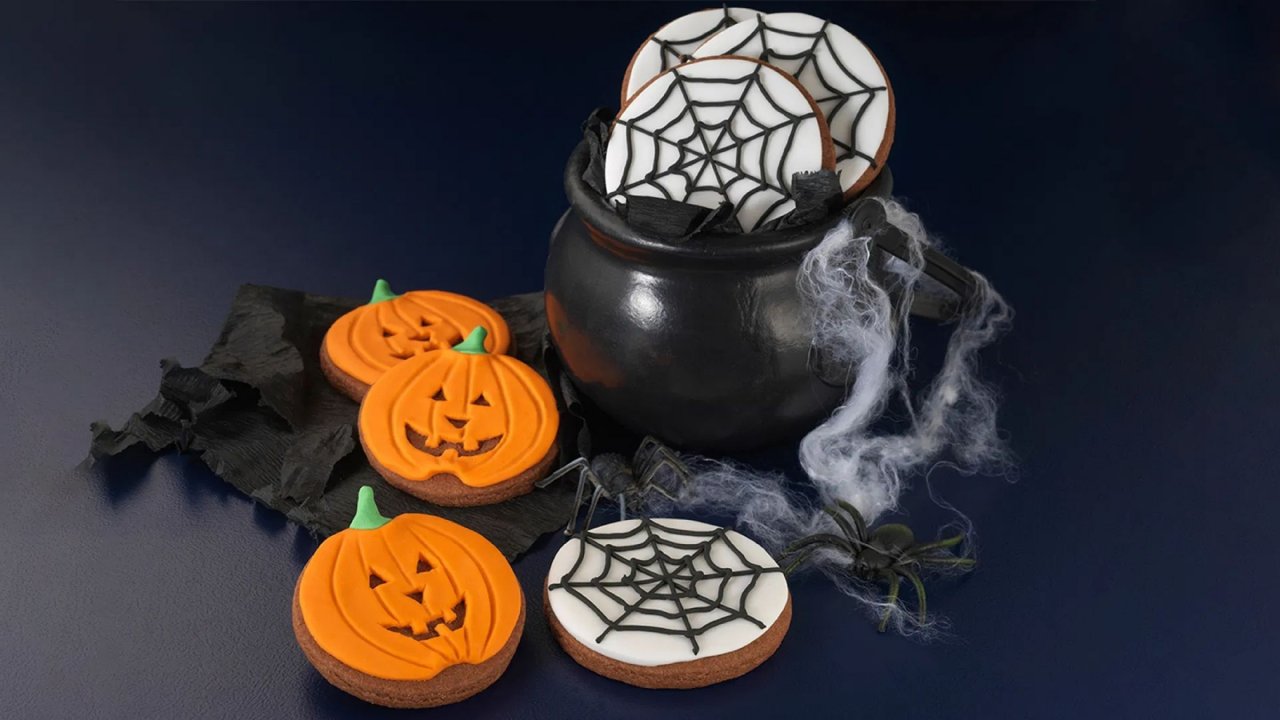 Whip up these spook-tacular Halloween Biscuits for your ghosts and ghouls. Watch as these Halloween Biscuits disappear!
Ingredients
125g butter
½ cup CSR White Sugar Cubes
1 tbsp CSR Golden Syrup
1 egg
2 cups White Wings Plain Flour
2 tsp cocoa powder
1 tsp each: cinnamon, mixed spice
1 tsp baking powder
Decorations:
½ cup CSR White Sugar Cubes
½ cup water
Fondant Icing:
7 cups CSR Pure Icing Sugar, sifted
1 tbsp gelatine powder
1 ½ tbsp glycerine
½ cup glucose syrup or corn syrup
¼ cold water
1 tsp vanilla essence
Gel food colouring
Black gel pen
Method
Preheat oven to 180°C. Beat butter and sugar until pale, mix in CSR golden syrup followed by the egg. Sift dry ingredients and combine with the butter mix to form a dough.
Roll out dough between two sheets of baking paper to roughly 3mm thick. Remove top paper layer, press out shapes using a using a biscuit cutter, remove excess dough. Place biscuits onto a baking tray and continue until mixture is used up. Bake for 15 minutes, cool on a wire rack before decorating.
Fondant Icing: Sift sugar into a large non-metal bowl. In a small saucepan, add water and gelatine. Dissolve the gelatine over a low heat, but don't let it boil. Remove saucepan from the heat and add the glucose syrup and glycerine. Stir until combined. Add vanilla essence. Combine gelatine mixture and sugar, stir until combined. Knead icing until well combined and smooth.
Sugar syrup: boil sugar and water until dissolved, leave to cool.
Decorate cookies, Pumpkin stalk: cut off a small section of icing, add green colouring, mix until combined, cover with plastic wrap, set aside. Pumpkin: Add orange food colouring until desired colour is reached. Roll out icing, press out shape using the same biscuit cutter (keep any unused icing in plastic wrap to avoid it drying out). Brush top of biscuit with sugar syrup. Place icing shape over biscuit, press indents into the top and base using your thumb. Shape a small piece of green icing into a stalk and press into the top (brush with sugar syrup to help it stick). Press lines into the icing using the rim of a cup or draw them using the tip of a paintbrush handle. Using a small knife, cut out the eyes, nose and mouth and remove pieces.
For the spider web version, simply cut out icing shape and use a black gel pen to draw on the web detail.