Glazed Doughnut Cake
Prep: 30 mins
Cook: 60 mins
Servings: 16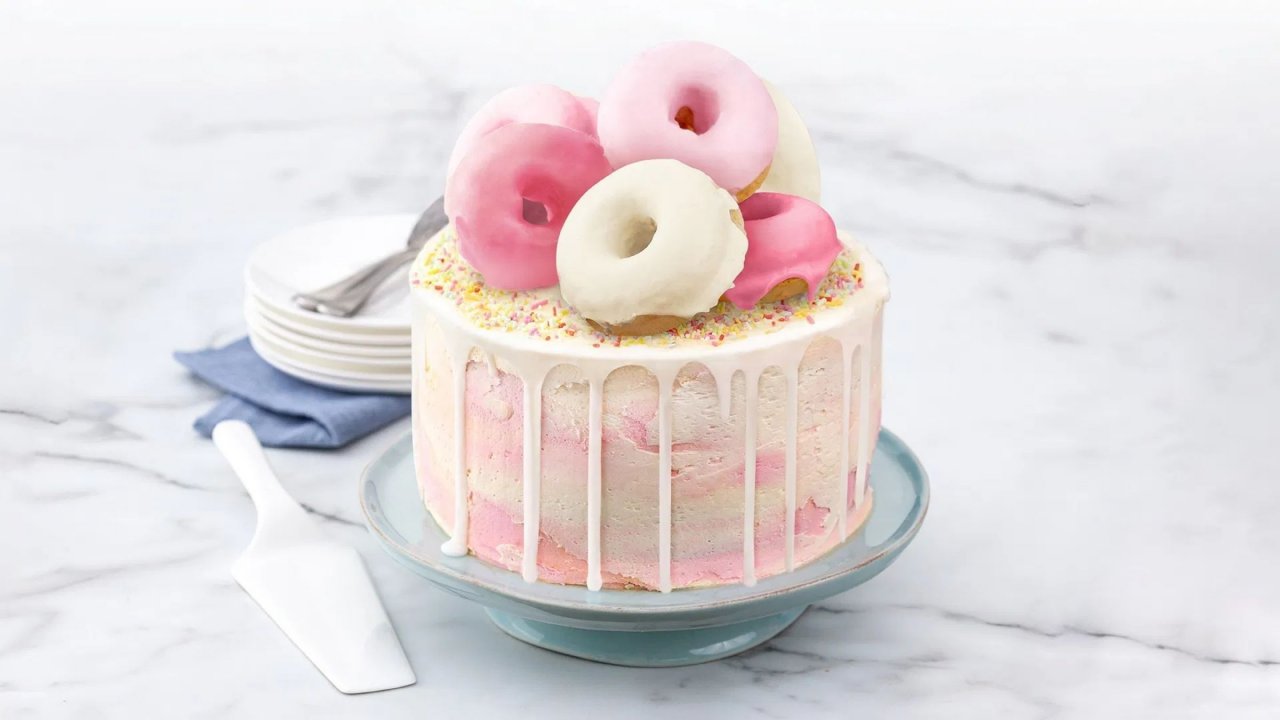 Celebrate your little one's birthday with this Glazed Doughnut Cake. Iced with buttercream, a drip glaze and topped with doughnuts – it will make it a day to remember.
Ingredients
Vanilla Cake:
1 ⅓ cups White Wings Plain Flour
2 cups CSR Caster Sugar
8 eggs
500g butter, melted
4 tsp vanilla essence
2 cups milk
Buttercream:
125g butter, softened
1 ½ cups CSR Soft Icing Mixture
1 tbsp milk
Food colouring (optional)
Doughnuts:
1 White Wings Doughnut Bites packet mix
2 tbsp vegetable oil
1 egg
¼ cup milk
2 tbsp butter, softened
Drip Glaze:
2 cups CSR Soft Icing Mixture
6 tsp milk
3 tsp vanilla essence
Food colouring (optional)
Coloured sprinkles – for decoration
Method
Pre-heat oven to 160°C (140°C fan-forced).
Prepare doughnuts as per instructions and pour into a 6-hole doughnut baking tray. Bake for 10 minutes and leave to cool.
Place all vanilla cake ingredients in a large mixing bowl and use electric beaters on low speed for 30 seconds. Once combined increase speed to high and beat until mixture is thick and smooth.
Pour batter into two greased and paper lined 20cm round springform cake tins and bake for 45-55 minutes or until a skewer inserted into the centre comes out clean. Remove from oven and leave in tin for 10 minutes before releasing and leaving to cool on a wire rack. Once cooled, cut off domed centre of cakes and then cut each in half horizontally to give you four discs.
Prepare the buttercream icing by beating softened butter on high speed until pale before gradually adding the remaining ingredients. Add a couple drops of food colouring and beat until fully combined.
Stack the cake discs with a thin (½ cm) layer of buttercream between each. Spread remaining buttercream over the top of the stack and start down the sides until you reach the bottom and smooth all over with a palette knife.
Prepare glaze by adding vanilla essence to icing sugar mixture and gradually adding milk to reach a thick smooth and glossy liquid. Separate a small amount and add food colouring for the doughnuts. Dip each doughnut into the coloured glaze and place on wire rack to set. Pour the rest of the glaze over the cake and allow to drip down the sides.
Top the cake with coloured sprinkles and the glazed doughnuts.