Donna Hay Brown Sugar Centrepiece Pavlovas
Prep: -
Cook: 60 mins
Servings: 16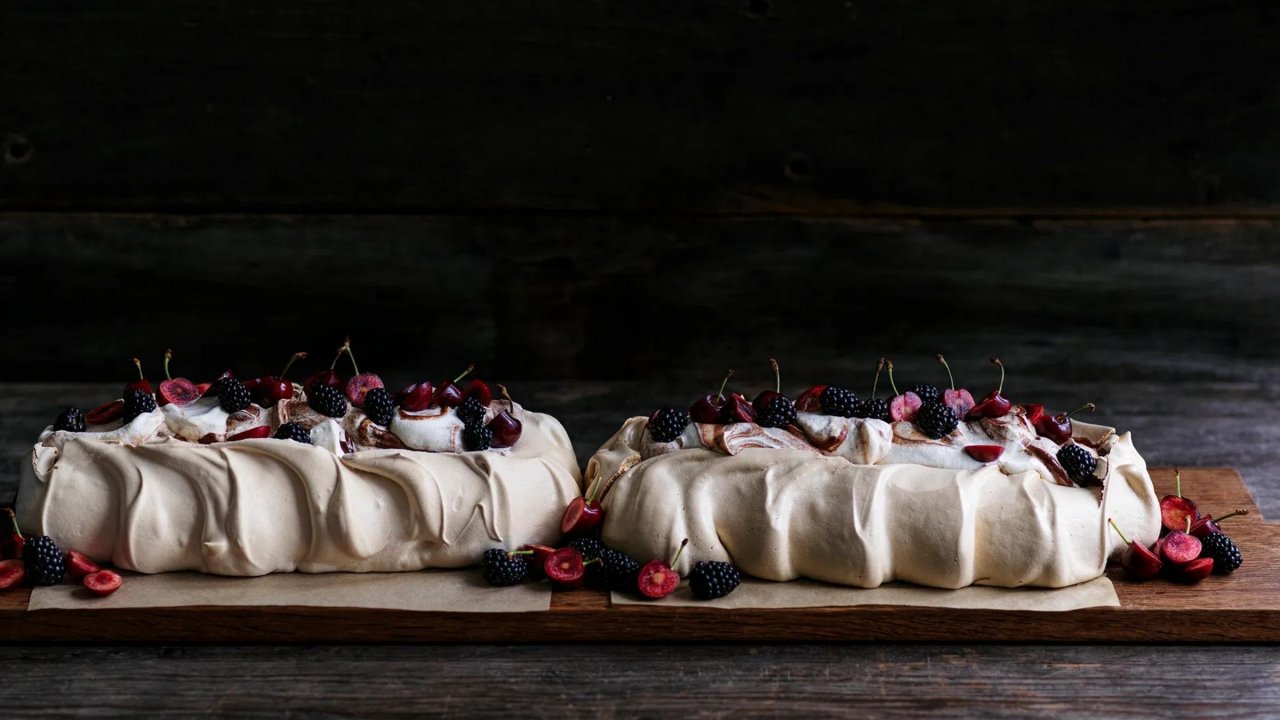 These Brown Sugar Centrepiece Pavlovas are the perfect finishing touch for the dining table. Topped with fresh berries, cherries and chocolate swirl cream, your guests won't be disappointed.
This Brown Sugar Centrepiece Pavlovas recipe is from Australian food stylist, author and magazine editor – Donna Hay.
Ingredients
450ml egg whites (about 12 eggs) at room temperature
¼ teaspoon cream of tartar
2 cups (440g) CSR Raw Caster Sugar
1 cup (225g/8 oz) firmly packed CSR Dark Brown Sugar, sifted
2 tablespoons White Wings Cornflour
2½ teaspoons white vinegar
250g blackberries or blueberries
300g cherries, pitted and halved
Chocolate Swirl Cream:
100g dark (70% cocoa) chocolate, chopped
⅔ cup (160ml) single (pouring) cream
800ml single (pouring) cream extra, for whipping
Method
Preheat oven to 140°C. Line 2 large baking trays with non-stick baking paper.
To make the pavlova, place the egg whites and cream of tartar in the bowl of an electric mixer and whisk until soft peaks form. Gradually add the caster sugar, 1 tablespoon at a time, whisking until sugar has dissolved. Sprinkle tablespoons of the brown sugar over the egg white mixture, whisking well after each addition, until mixture is stiff and glossy. Combine the cornflour and vinegar and mix until smooth. Gently fold through the meringue mixture. Tip: Keep whisking while you gradually sprinkle in the sugar.
Draw a 12cm x 30cm (5 inch x 12 inch) rectangle on 2 separate sheets of non-stick baking paper and place baking paper on 2 large upturned baking trays. Spoon the meringue mixture onto the rectangles and carefully shape into logs. Bake for 1 hour. Turn the oven off and allow the meringues to cool completely in the oven with the door closed.* *Brown sugar meringue can be quite fragile and susceptible to humidity. Keep in a cool dry place until ready to decorate and serve.
To make the chocolate swirl cream, place the chocolate and cream in a small saucepan over low heat and stir until combined and the chocolate has melted. Set aside to cool. Place the extra cream in the clean bowl of an electric mixer and whisk until stiff peaks form. Add the chocolate mixture and swirl through to create a marbled effect.
Just before serving, add dollops of chocolate swirl cream to each of the pavlovas and serve topped with the blackberries and cherries.  
Tip:
Pull your palette knife through the centre of the meringue to make a deep indent. It helps stop the pavlova cracking and creates the perfect groove for your filling.