Christmas Present Fruit Cake
Prep: 20 mins
Cook: 120 mins
Servings: 20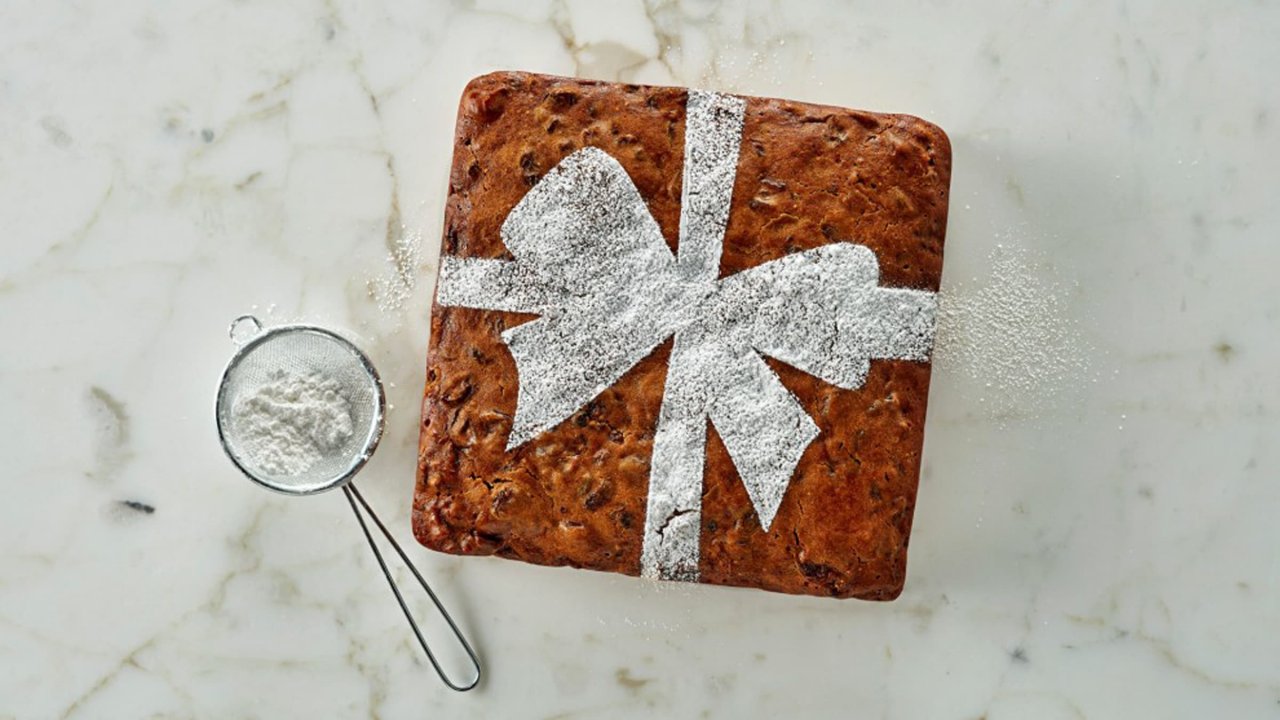 Fruit Cake is a festive nostalgic favourite so why not make it into a present – bow and all! Wrap up this Christmas Present Fruit Cake in cellophane with a festive bow for a delicious home-made gift. Download the stencil here.
Ingredients
1kg dried fruits (raisins, mixed fruit, sultanas)
100g dried figs, chopped
¾ cup brandy
½ cup orange juice
225g butter, diced and softened
1 cup CSR Dark Brown Sugar
2 tbsp CSR Treacle
4 eggs
1½ cups White Wings plain flour
2 tsp ground cinnamon
1 tsp mixed spice
CSR Pure Icing Sugar, to decorate
Method
Pre-heat oven to 150°C (130°C fan-forced). Lightly grease and line a deep 20 x 20cm cake pan with three layers of baking paper.
Combine dried fruits and figs in a large saucepan with brandy and orange juice. Mix well over a low heat for 8 mins until liquid is absorbed and fruit softened. Set aside to cool.
Beat butter and sugar in a large bowl of an electric mixer until pale and creamy. Mix in the treacle. Add eggs one at a time until well incorporated. Fold in flours and spices.
Add fruit mixture to batter, mixing until well combined. Pour batter into prepared cake pan and smooth the top. Bake for 2 hours, or until an inserted skewer comes out clean. Allow to cool in the pan before removing to a cooling rack to cool completely.
For serving; place cooled cake onto serving plate and using preferred stencil, place over top of cake and dust heavily with icing sugar.