Chocolate Layered Meringue Cake
Prep: 30 Minutes
Cook: 85 Minutes
Servings: 8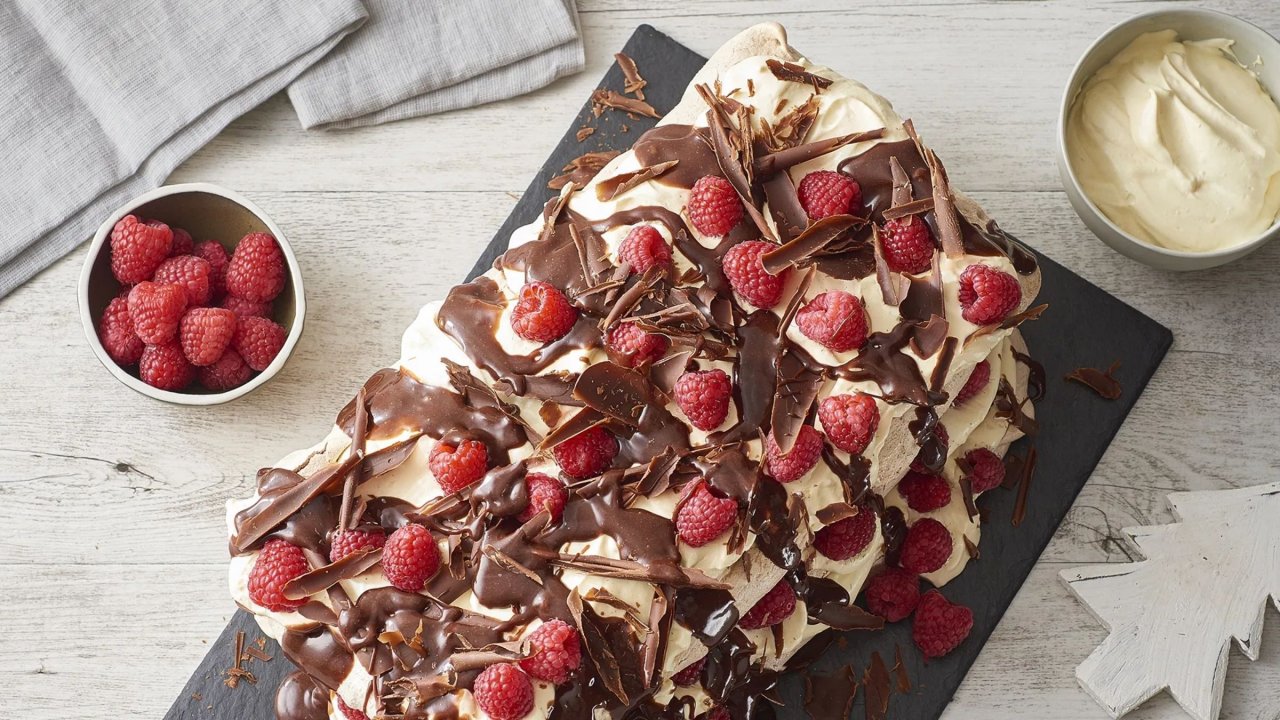 Move over pavlova, there's a new meringue in town: Chocolate Layered Meringue Cake. This show stopper has three layers of chocolate swirled meringue, filled with cream and raspberries and topped with dripping chocolate sauce.
Ingredients
Meringue
120g dark chocolate (50% cocoa), finely chopped, plus extra shaved to serve
8 eggs, separated into whites
250g CSR Caster Sugar
Pinch salt
250g CSR Pure Icing Sugar
50g Dutch cocoa powder
3 tsp cornflour
Chocolate Sauce
65g dark chocolate (50% cocoa), coarsely chopped
10g unsalted butter
75g CSR Caster Sugar
70g liquid glucose
2 tsp Dutch cocoa powder, sieved
100ml thickened cream
Pinch sea salt
Cream Filling
400ml thickened cream
400g crème fraiche
50g CSR Pure Icing Sugar
Scraped seeds of 1 vanilla bean
120g raspberries
Method
Preheat oven to 100°C fan-forced. Trace a 25cm x 12cm rectangle on 3 sheets of baking paper, then place each sheet pencil-side down on a lightly greased baking tray.
For the meringue; melt chocolate in a bowl over a saucepan of simmering water, stirring occasionally until smooth. Set aside.
Whisk eggwhites, caster sugar and salt in a large bowl of an electric mixer for 6-7 mins, until firm, glossy peaks form.
Sieve together the icing sugar, cocoa and cornflour. Gradually fold into the egg mixture a tablespoon at a time with beaters on slow speed. Once all incorporated, remove from machine and using a large spoon, fold the melted chocolate in to create a ripple effect.
Divide mixture evenly among prepared trays, spreading within the rectangles. Bake, swapping and turning trays, for 1¼ hrs, until crisp and dry. Turn oven off, leaving the door ajar to allow the meringue to cool completely.
For chocolate sauce; melt chocolate and butter in a heatproof bowl over a saucepan of simmering water, stirring occasionally until smooth, approx. 2-3 mins. Combine remaining ingredients and 50ml water in a saucepan and bring to the boil. Stir in chocolate mixture and bring back to the boil, season salt flakes and refrigerate to chill.
For cream filling; whisk cream, crème fraiche, icing sugar and vanilla seeds in the bowl of an electric mixer to soft peaks. Refrigerate until required.
To serve; place a meringue rectangle on a platter, spread with a third of the cream, then top with a third of the raspberries and a drizzle of chocolate sauce. Repeat layerings, finishing with raspberries, then drizzle with chocolate sauce and scatter with shaved chocolate.