Brown Butter Frosted Cardamom Cake
Prep: 45 mins
Cook: 35 mins
Servings: 12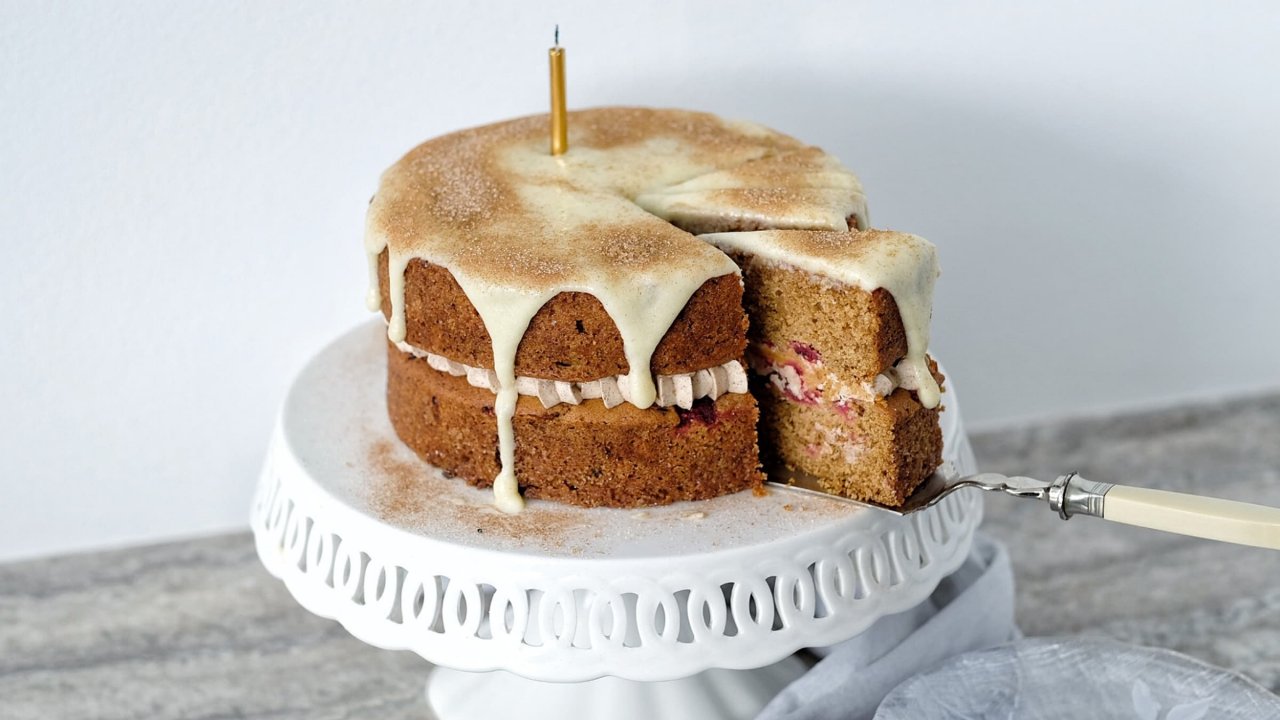 Sink your teeth into this Brown Butter Frosted Cardamom Cake.
Created by Mumma's Country Kitchen, the cardamom cake is coated in crunchy Demerara Sugar, filled with burnt butter frosting and topped with mascarpone drizzle making it an indulgent delight.
Ingredients
Cake Layers:
1 tbs CSR Demerara Sugar
1 cup CSR Muscovado Sugar
¼ cup CSR Treacle
150g unsalted butter, room temperature
3 large eggs, room temperature, lightly whisked with a fork
⅓ cup full-fat milk, room temperature
2 tsp vanilla bean paste
2 cups White Wings plain flour
1 tbsp baking powder
3 tsp ground cardamom
1 tsp ground cinnamon
1 tsp salt
¾ cup frozen raspberries
Burnt Butter Frosting:
125g unsalted butter
½ cup CSR Soft Icing Mixture
1 tsp ground cinnamon
½ tsp salt
2 tbs milk
Mascarpone Glaze:
75g mascarpone cheese
2 tbs milk
1 tsp vanilla bean paste
To Serve:
½ tsp cinnamon sugar
¼ tsp CSR Demerara Sugar
Method
Preheat the oven to 160°C fan-forced. Grease and line 2 x 18cm round cake tins and line the base of each with baking paper. Lightly spray again and sprinkle a tablespoon of demerara sugar around each tin. Set aside.
Beat muscovado sugar, treacle and butter in the bowl of an electric mixer on medium until light and fluffy. Add eggs (one at a time), then add the milk and vanilla bean paste. Beat until well combined.
In a separate bowl, combine flour, baking powder, cardamom, cinnamon and salt. Using a rubber spatula, carefully fold the dry ingredients into the wet until they are just combined.
Distribute the batter evenly between the tins and smooth the surface of the cakes with an offset spatula or the back of a spoon. Divide the raspberries between the two tins, lightly pressing them into the tops of the cakes. Bake for 30 mins or until a toothpick inserted into the centre of the cakes comes out clean. Allow to cool in the tin for a few minutes before turning out onto wire racks to cool completely. Make sure you cool the cake with the berry side up.
Melt butter in a small saucepan on medium heat. Continue cooking, stirring every so often, until the milk solids turn brown and the butter smells nutty, about 5-7 mins. Remove from the heat and pour into a clean bowl to stop the cooking process. Chill for about an hour in the fridge until it has almost solidified again but is still soft enough to beat.
Beat with an electric mixer for 3-4 mins on a medium speed until pale and creamy. Sift over the icing sugar mixture, ground cinnamon and salt. Beat again for 2 mins before adding the milk. Beat for a final 2 minutes until the mixture is smooth. Place into a piping bag fitted with a decorative tip and set aside.
Beat the mascarpone cheese and soft icing mixture for 2-3 minutes on a medium speed. Add the milk and vanilla bean paste and beat for a further 2 mins until it is velvety smooth.
To assemble, place one of the cakes onto a cake stand, berry side up. Using the piping bag, pipe out dollops of the burnt butter frosting on top of the first cake layer. Now place the other cake (upside down to ensure a smooth top) on top of the frosting and gently press down to "stick" to the frosting.
Slowly pour or spoon over the mascarpone glaze. To complete the cake, lightly sift the cinnamon sugar around the top edge of the cake and sprinkle with the extra demerara sugar.