Breakfast Nut Bar
Prep: 20 mins
Cook: -
Servings: 14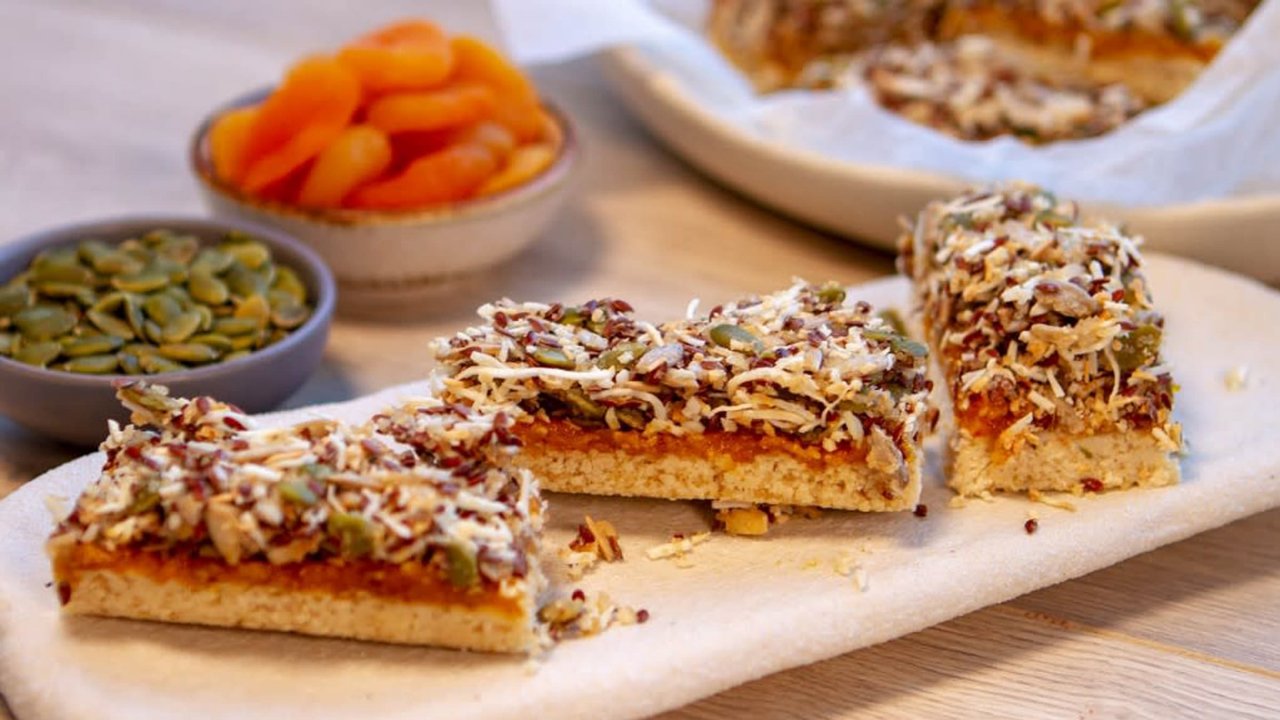 Our breakfast nut bar is a no-bake slice that's perfect for breakfast on-the-go or snack option and is vegan-friendly too.
Ingredients
Fruit Paste:
1 cup dried apricots, roughly chopped
6 fresh dates, pitted and roughly chopped
½ cup fresh orange juice
2 tbs white chia seed
Base:
2 cups desiccated coconut
1 cup almond meal
½ cup sesame seeds
75g coconut oil, melted
½ cup CSR Low GI Sugar
1 pinch sea salt
Topping:
50g coconut oil, melted
½ cup CSR Low GI Sugar
½ cup linseeds
1 cup shredded coconut
½ cup pepitas
½ cup sunflower seeds
Method
Line a 20 x 30 cm slice pan with baking paper.
Place all the fruit paste ingredients into a jug, cover and refrigerate for at least 1 hour.
Process the soaked fruit in a food processor, until you have a smooth apricot paste. Place the fruit paste in a bowl, then cover and chill until you're ready to use it. (This allows the chai to thicken it a little)
Using the food processor again, add all the base ingredients and blitz until you have a crumbly mixture.
Transfer to the prepared slice pan. Using an egg flip or spatula, press the mix firmly into the pan. Refrigerate until your ready the use it.
In a large bowl, add all the topping ingredients then mix to combine.
Using a spoon, spread the apricot fruit paste in an even layer over the chilled base.
Sprinkle with the topping and refrigerate for at least 2 hours.
Use a very sharp knife to cut the slice into 14-16 bars. Store covered in the fridge for up to 1 week.