Bourbon Glazed Pork Belly Bites
Prep: 260 mins
Cook: 200 mins
Servings: 12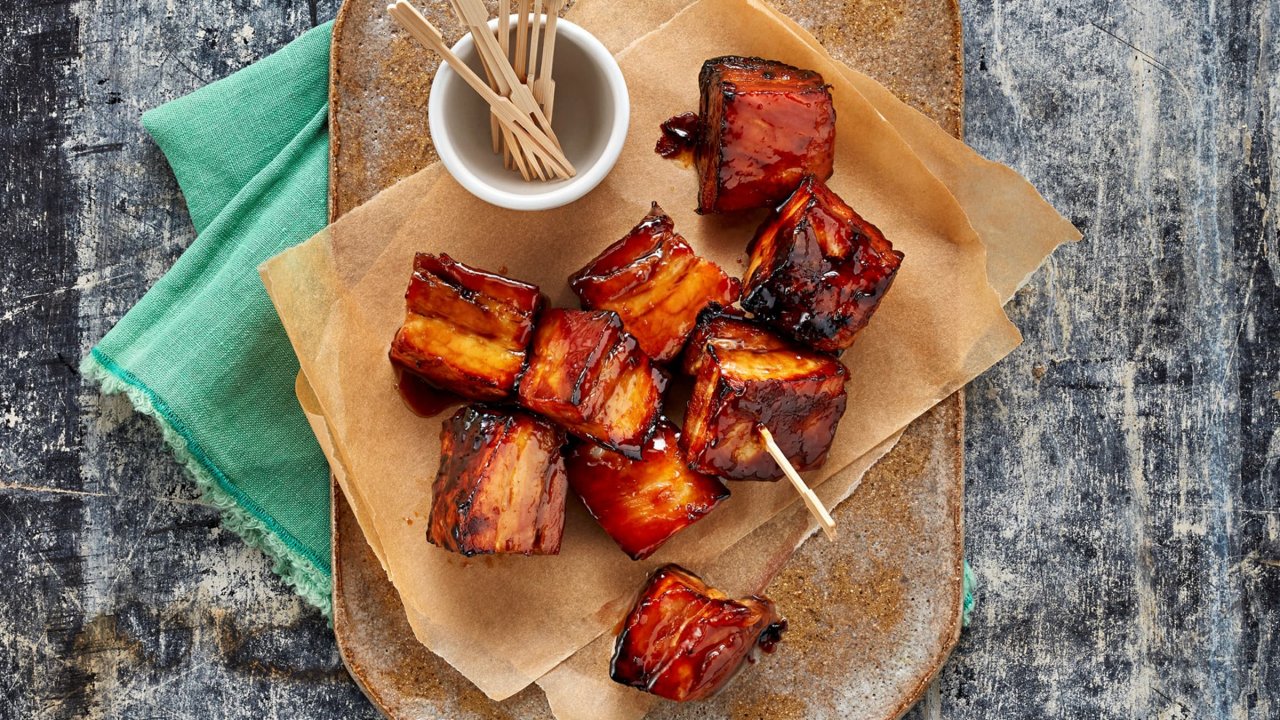 Bourbon Glazed Pork Belly Bites make an ultimate finger food! Serve up these bite sized pork bell bits at your next get together and we're positive they will go in a flash. Add some cucumber to a skewer to add a fresh element and be sure to have plenty of the sticky bourbon glaze to drizzle.
Ingredients
1kg piece pork belly
¾ cup whiskey
¼ cup CSR Brown Sugar
1½ tbs CSR Golden Syrup
2 tsp dijon mustard
2 tsp apple cider vinegar
Method
Mix together the whiskey, sugar, golden syrup, mustard and vinegar. Pour into a baking dish or container that will fit the pork snugly. Place pork belly into container, cover and refrigerate for 4 hours or overnight.
Pre-heat oven to 160°C fan-forced. Remove pork from marinade, keeping marinade in the fridge. Place pork on an oven rack in a baking dish. Add 1 cup water to the base of the dish. Cover with foil and cook for 2 ½ -3 hrs. Remove from oven and allow to cool.
Remove the skin and cook it separately in a hot oven if you would like some crispy pork crackling. Chill the remainder of pork belly until cool, preferably overnight.
Pre-heat oven to 180°C fan-forced.
Bring reserved marinade to the boil in a saucepan. Simmer until just thickened.
Remove chilled pork from the fridge and cut into 3cm pieces. Place onto an oven tray and drizzle with the remaining marinade. Cook for 20 mins, turning occasionally until golden and crispy. Serve pork bites on skewers.