Berry Friands
Prep: 30 mins
Cook: 20 mins
Servings: 10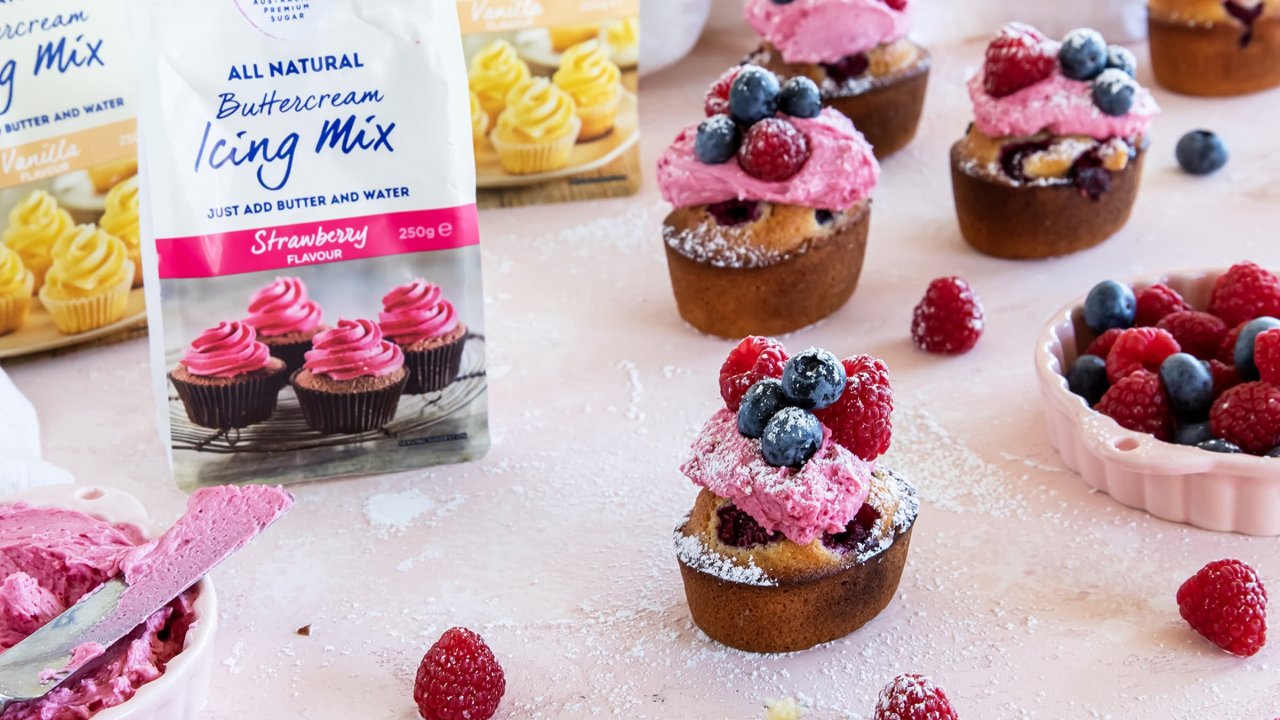 Friands are the new cupcakes. These Berry Friands by My Lovely Little Lunch Box are a simple and tasty sweet treat. Filled with mixed berries and topped with All Natural Buttercream Icing, they make the perfect addition to your at-home high tea.
Ingredients
Friands:
⅔ cup (100g) White Wings plain flour
1⅔ cups CSR Soft Icing Mixture
1 cup (125g) almond meal
6 egg whites, whisked until frothy
160g butter, melted and slightly cooled
1 tsp vanilla bean paste (or extract)
Zest of 1 lemon
125g mixed berries (raspberries and blueberries)
Buttercream Icing:
160g unsalted butter, softened
1 x 250g packet CSR Strawberry Buttercream Icing mixture
3 tsp water
To Decorate:
125g fresh berries
CSR Soft Icing Mixture, to dust
Method
Preheat oven to 180°C fan-forced. Grease 10 holes of a friand tin. Set aside.
Sift the flour and icing mixture into a large bowl. Add the almond meal and whisk to combine. Add the egg whites, melted butter, vanilla and lemon zest and whisk to combine.
Evenly divide the batter between the prepared tin. Top each friand with a few berries. Bake for 20-25 mins or until a skewer inserted removes cleanly.
Allow the friands to cool for 5 mins before carefully removing from the tin and place on a wire rack to cool completely.
To make the buttercream icing, use an electric mixer to beat the butter until pale. Gradually add buttercream icing mix and water, beating continuously until smooth, approximately 3-5 mins.
Top each friand with a generous spoonful of buttercream, top with berries and dust with icing sugar.