Beef Burger with Caramelised Onion
Prep: 15 mins
Cook: 40 mins
Servings: 4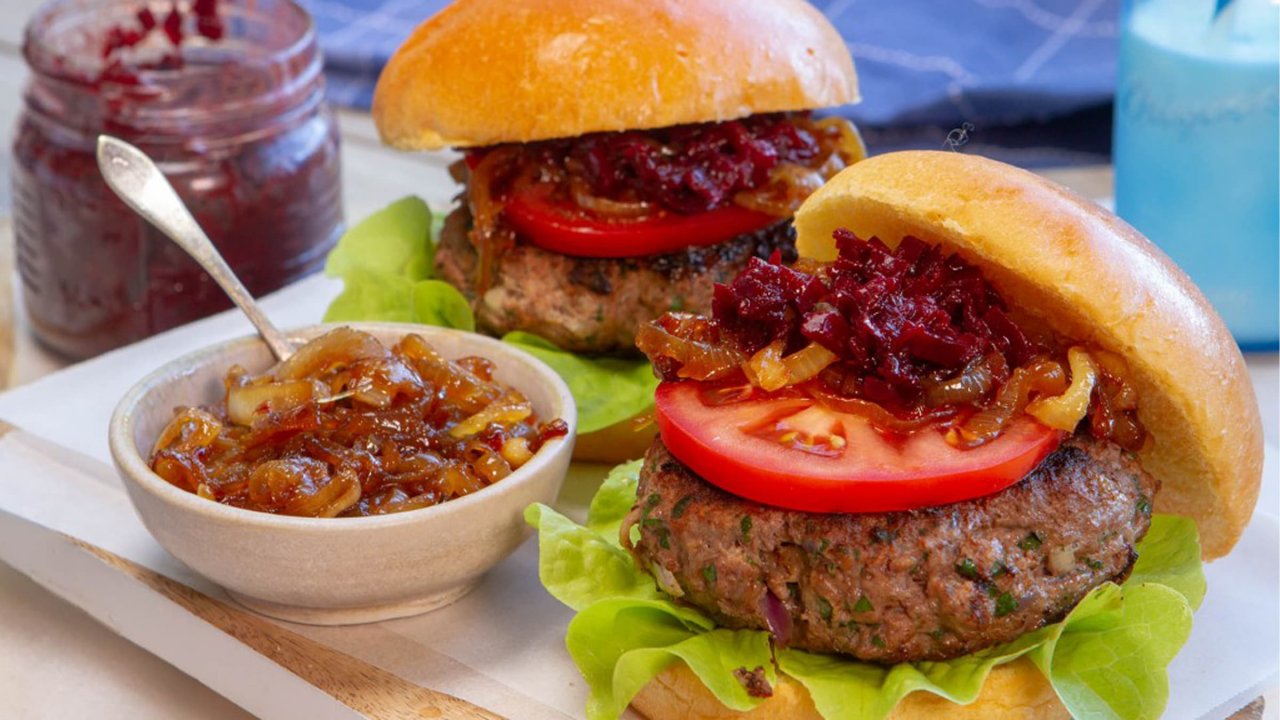 Our beef burger with caramelised onion will have the whole family asking for seconds. A delicious base for those fun build-a-burger evenings.
The rich flavour of caramelised onions is made more intense with the added rich dark toffee aroma of CSR Dark Brown Sugar.
Ingredients
Caramelised Onions:
2 large onions, peeled and sliced
2 tbs olive oil
2 tsp CSR Dark Brown Sugar
 Burger Patties:
1kg beef hamburger mince
1 egg, lightly beaten
1 small red onion, very finely chopped
3 tbs parsley finely, chopped
1 tbs tomato ketchup
1 tsp sea salt
1 tsp freshly ground black pepper
olive oil to fry
to serve
2 handfuls of washed salad leaves
2 medium tomatoes, sliced
4 tbsp spiced beetroot relish
6 burger buns, split and toasted (kept warm)
Method
First, make the caramelised onion
In a medium frying pan, on medium-low heat, add the olive oil and onions. Cook, stirring occasionally for 10 mins or until soft and lightly golden. Stir in the CSR Dark Brown Sugar and allow to cook for another couple of minute, until the onion is a rich caramelised dark brown, remove from the heat.
In a large bowl, add all the burger ingredients and use your clean hands or a large spoon to mix everything very well. Do not use lean mince for the beef burger as the fat in hamburger mince keeps them moist as they cook.
Form into 6 large patties.
Oil either a frying pan or BBQ flat-plate lightly and heat until hot, fry the burgers on both sides until cooked to your liking.
Assemble the burgers with the salad leaves on the bun base, top with the burgers, sliced tomatoes and a generous dollop of beetroot relish and caramelised onions. Serve immediately.