Baklava Tarts
Prep: 20 mins
Cook: 30 mins
Servings: 18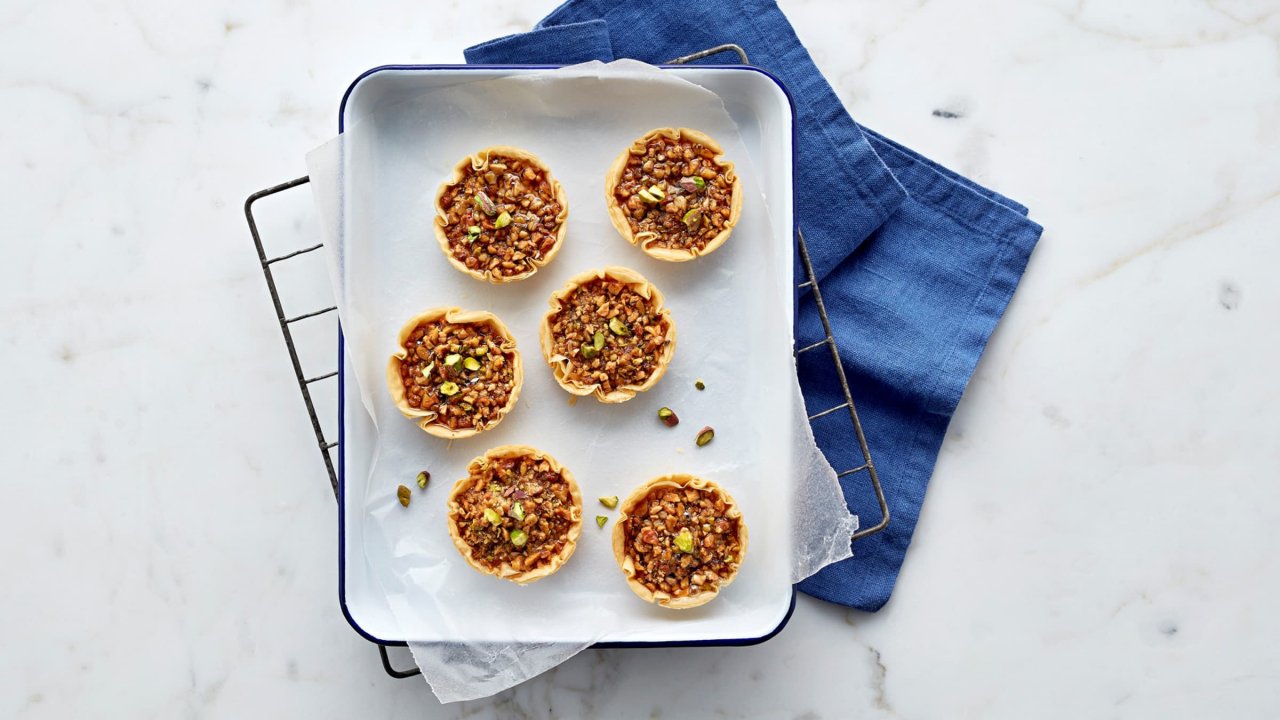 Our Baklava Tarts give all the flavours you love in traditional baklava in just a fraction of the time. With six layers of filo pastry, sticky syrup and a crunchy nut filling, you can have a delicious pastry snack in under and hour.
Ingredients
Syrup:
½ cup water
½ cup CSR Caster Sugar
½ cup honey
2 tbsp lemon juice
1 cinnamon stick
Filling:
1½ cups walnuts
½ cup blanched almonds
¼ cup shelled pistachios
⅓ cup CSR Caster Sugar
¼ tsp cinnamon
⅛ tsp allspice
Method
Pre-heat oven to 160°C fan-forced. Brush 18 x ⅓ cup capacity muffin pans with some of the melted butter.
For the syrup, place all ingredients in a saucepan and bring to the boil. Reduce heat and simmer for 15 mins until thickened and syrupy. Remove cinnamon stick and cool.
For the filling; place the nuts in the bowl of a food processor. Pulse until a coarse crumb is achieved, remove to a bowl and stir through the sugar and spices.
Lay one sheet of the pastry onto benchtop and brush with melted butter. Place another sheet of pastry on top, continuing this process until you have 6 layers. Using a 9cm round cutter, cut out 12 rounds and press into prepared pans. Spoon in a heaped tablespoon of nut mixture, pressing down slightly.
Repeat butter and layering process for remaining 3 sheets of pastry. Cut in half and place on top of each other with a layer of butter in between so you have 6 layers of pastry. Cut a further 6 rounds of pastry to line muffin pans. Bake for 30 mins until pastry is golden.
Remove baklava from oven and spoon a tablespoon of syrup over each tart. Allowing to cool in the tray.