Baked Nut Muesli with Berries
Prep: 10 mins
Cook: 18 mins
Servings: 15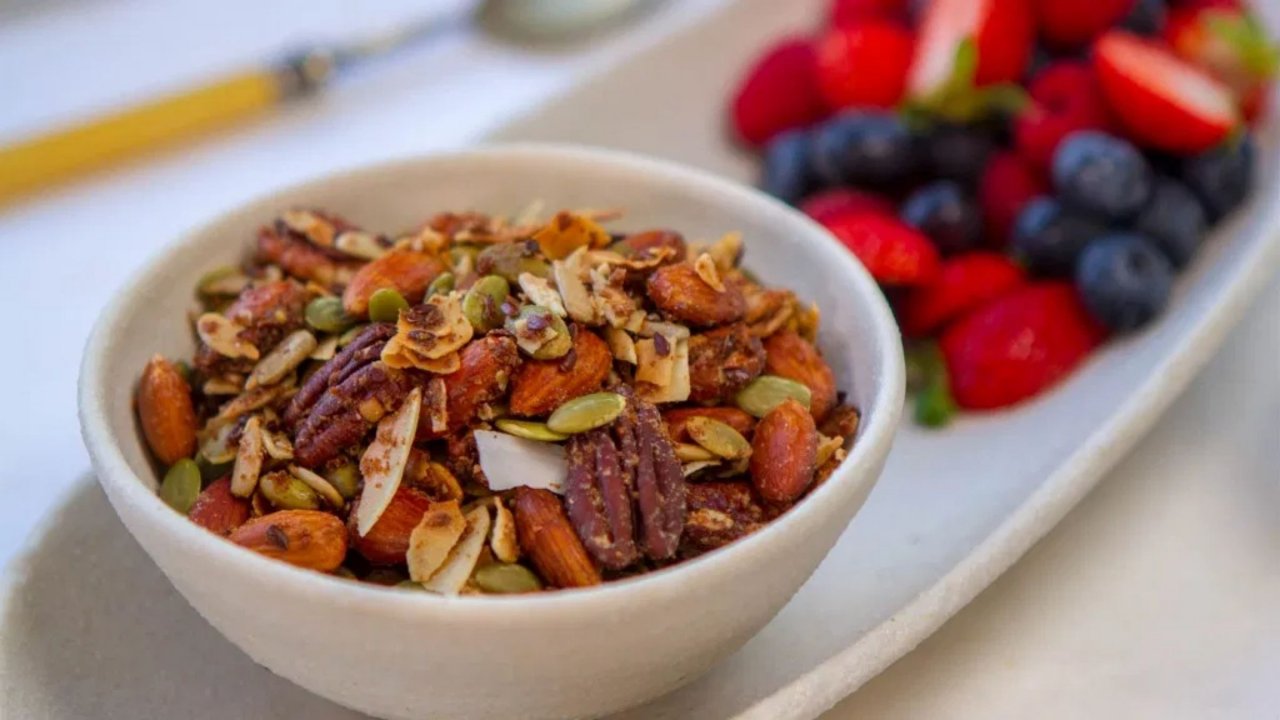 Our baked nut muesli with berries is easy and grain-free, making this a delicious, filling and healthier alternative for breakfast! Make over the weekend, to enjoy for quick breakfasts throughout the week too.
Ingredients
2 tbsp coconut oil, melted
1 tbsp hulled tahini
2 tbsp CSR Coconut Sugar
1 cup pecans or walnuts
1 cup raw almonds
1 cup shredded or flaked unsweetened coconut
½ cup sunflower seeds
½ cup pepitas (pumpkin seeds)
3 tbsp linseed or linseed meal
3 tbsp sesame seeds
3 tbsp black chia seed
½ tsp sea salt (optional)
Method
Preheat oven to 160°C and line a large shallow baking tray with baking paper.
Place the coconut oil in a small deep microwave proof dish, cover and microwave on low for about 15 sec or until the coconut oil melts. Stir the tahini into the warm coconut oil.
Except for the chai seed, place all the seeds, nuts and CSR Coconut Sugar, in a large bowl. Pour in the coconut oil and tahini mixture and stir until fully coated.
Spread the nut mixture out in a thin layer on the lined baking tray.
Bake for about 10 min, remove, stir and return to the oven for a further 6-8 min or until lightly toasted and golden. Remove from the oven allow to cool fully. Stir through the chia seed and store in an airtight container for up to 3 weeks.
Serve with fresh berries, banana or any other fruit you like, and either milk, yoghurt or kefir.