AWW 40th Anniversary Birthday Bear Cake
Prep: -
Cook: 50 mins
Servings: -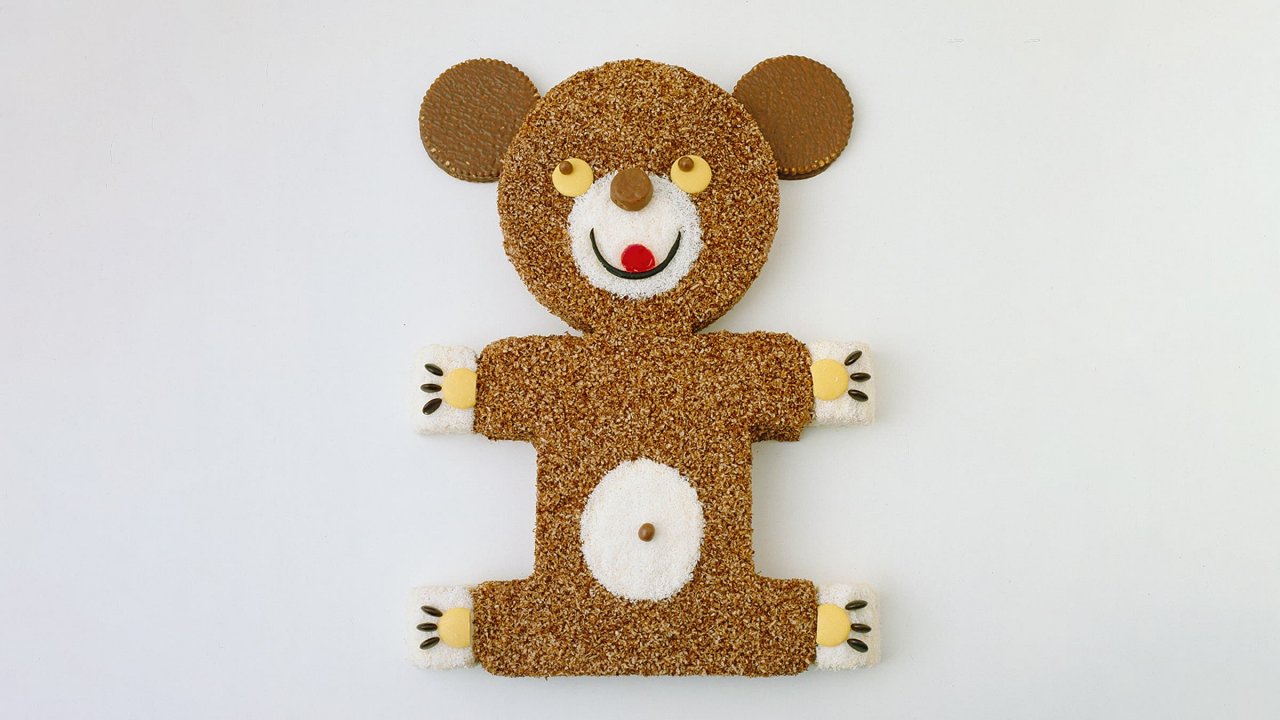 This cute bear shaped birthday cake is sure to be enjoyed at your little one's next party. Recipe from the Australian Women's Weekly Children's Birthday Cake Book 40th Anniversary Edition, Bauer Books
Ingredients
Brown Bear:
2 packets butter cake mix
1 quantity Vienna Cream
3 tbsp cocoa
250g coconut
Brown food colouring
2 Wagon Wheel biscuits
Assorted sweets (as shown)
Licorice
1 board 58cm x 45cm (23in x 18in)
Vienna Cream:
125g butter
1 ½ CSR Soft Icing Mixture
2 tbsp milk
Method
Make cakes according to directions on packet, pour half into greased deep 20cm (8in) round cake tin, pour other half into greased deep 23cm (9in) square cake tin, bake in moderate oven 45 minutes for square cake, 50 minutes for round cake or until cooked when tested. Turn on to wire rack to cool.
Cut square cake, as shown; assemble cake, as shown, on prepared board, using cut-out pieces for paws. Leave 3 tablespoons Vienna Cream plain, stir sifted cocoa into remaining Vienna Cream. Spread plain Vienna Cream over tummy and face, cover top and sides of rest of cake with chocolate Vienna Cream. Leave ¾ cup coconut plain, tint remainder with brown food colouring, sprinkle brown coconut over brown icing, sprinkle plain coconut over tummy and part of face, as shown. Cover top and sides of paws with plain Vienna Cream, then coat with plain coconut, place paws in position. Wagon Wheels represent ears, assorted sweets represent features on face, tummy and paws, a thin licorice strip represents mouth.
Vienna Cream:
Have butter and milk at room temperature, place butter in small bowl of electric mixer, beat until butter is as white as possible, gradually add about half the sifted icing sugar, beating constantly, add milk gradually, then gradually beat in the remaining icing sugar; mixture should be smooth and easy to spread with a spatula.
Coloured Vienna Cream:
Start to tint Vienna Cream (or any icing) by dipping a skewer into the bottle of colouring, shaking off excess, then dipping the skewer into icing; beat well with a wooden spoon. Every bottle of colouring will vary in strength; by adding it with a skewer you avoid over-colouring. Make sure the colouring is beaten evenly through the Vienna Cream.