Almond Cake with Lemon Thyme Syrup and Buttercream
Prep: 25 mins
Cook: 50 mins
Servings: 12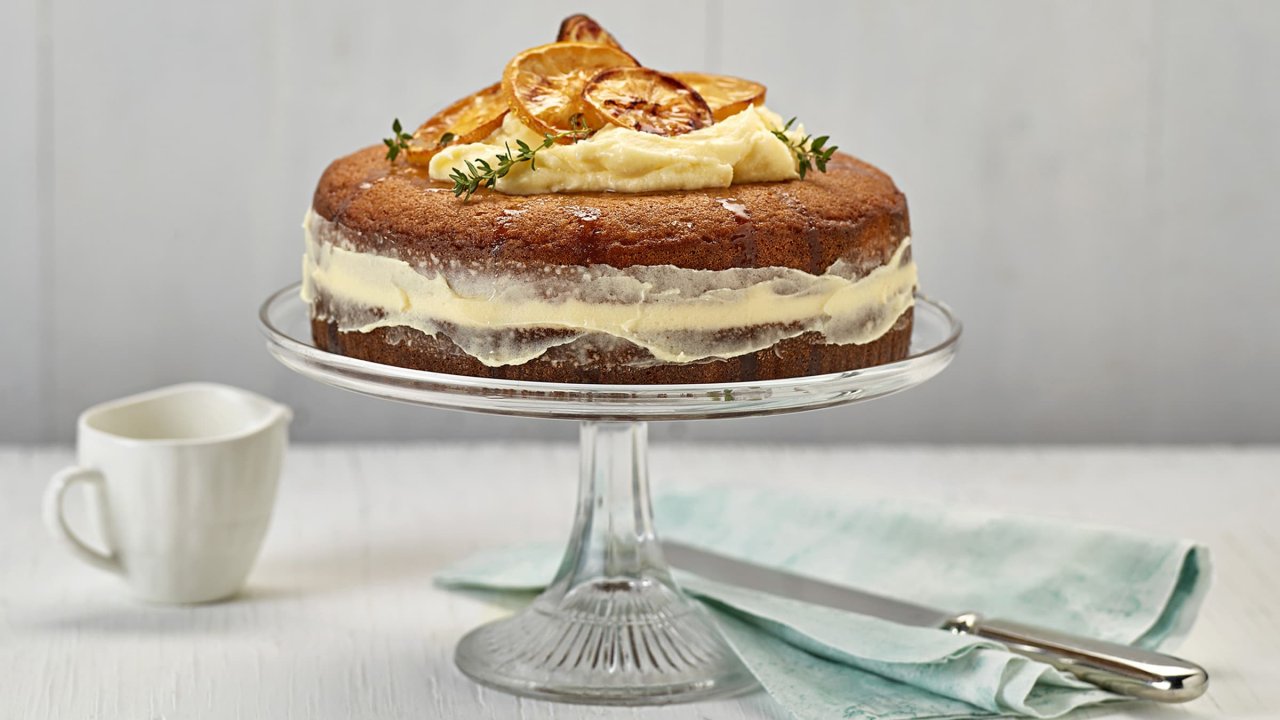 If you want to create a memorable cake, this Almond Cake with Lemon Thyme Syrup and Buttercream is for you. This showstopper cake has layers of dense almond cake sandwiched with lemon buttercream icing and drizzled with lemon thyme syrup. Serve this Almond Cake with Lemon Thyme Syrup and Buttercream to you family and friends and they won't be disappointed.
Ingredients
Almond Cake:
4 extra large eggs
1 cup CSR Caster Sugar
¾ cup sunflower oil
½ cup plain yoghurt
Finely grated rind 1 lemon
1 cup almond meal
1 cup White Wings plain flour
3 tsp baking powder
Lemon Thyme Syrup:
½ cup CSR Caster Sugar
½ cup water
2 tbsp lemon juice
3-4 sprigs thyme
1 tbs limoncello
Lemon Buttercream Icing:
150g butter, diced and softened
250g pkt CSR Vanilla Buttercream Icing mixture
¼ cup of the lemon syrup
To Decorate:
Roasted lemon slices
Thyme leaves
Method
Pre-heat oven to 160°C fan-forced. Line the base and sides of a 20cm cake pan.
In the large bowl of an electric mixer, beat the eggs and sugar until pale and creamy. Add oil, yoghurt and rind, continue mixing until combined. Then fold in the almond meal, flour and baking powder, mixing until smooth. Pour into prepared pan and bake for 50 mins. Allow to cool in pan for 15 mins before removing to a wire rack to cool completely.
Meanwhile, prepare syrup by combining sugar and water in a saucepan. Bring to the boil, reduce heat and add lemon juice and thyme. Simmer for 10 mins. Then strain and allow to cool. Stir in limoncello and set aside until required.
For buttercream, beat butter lightly and add buttercream icing mix. Mixing until smooth. Add lemon syrup and continue mixing until well incorporated and smooth.
To assemble, cut the cake into two horizontally. Spread half of the buttercream over the cut face and spread to the edges. Top with other half of sponge and dollop remaining buttercream in the centre. Drizzle with the remaining syrup and decorate with lemon slices and thyme.